Filoli Historic House and Garden Opens Winter 2021 Season with First-Ever Bonsai Show and Second Annual Haiku Contest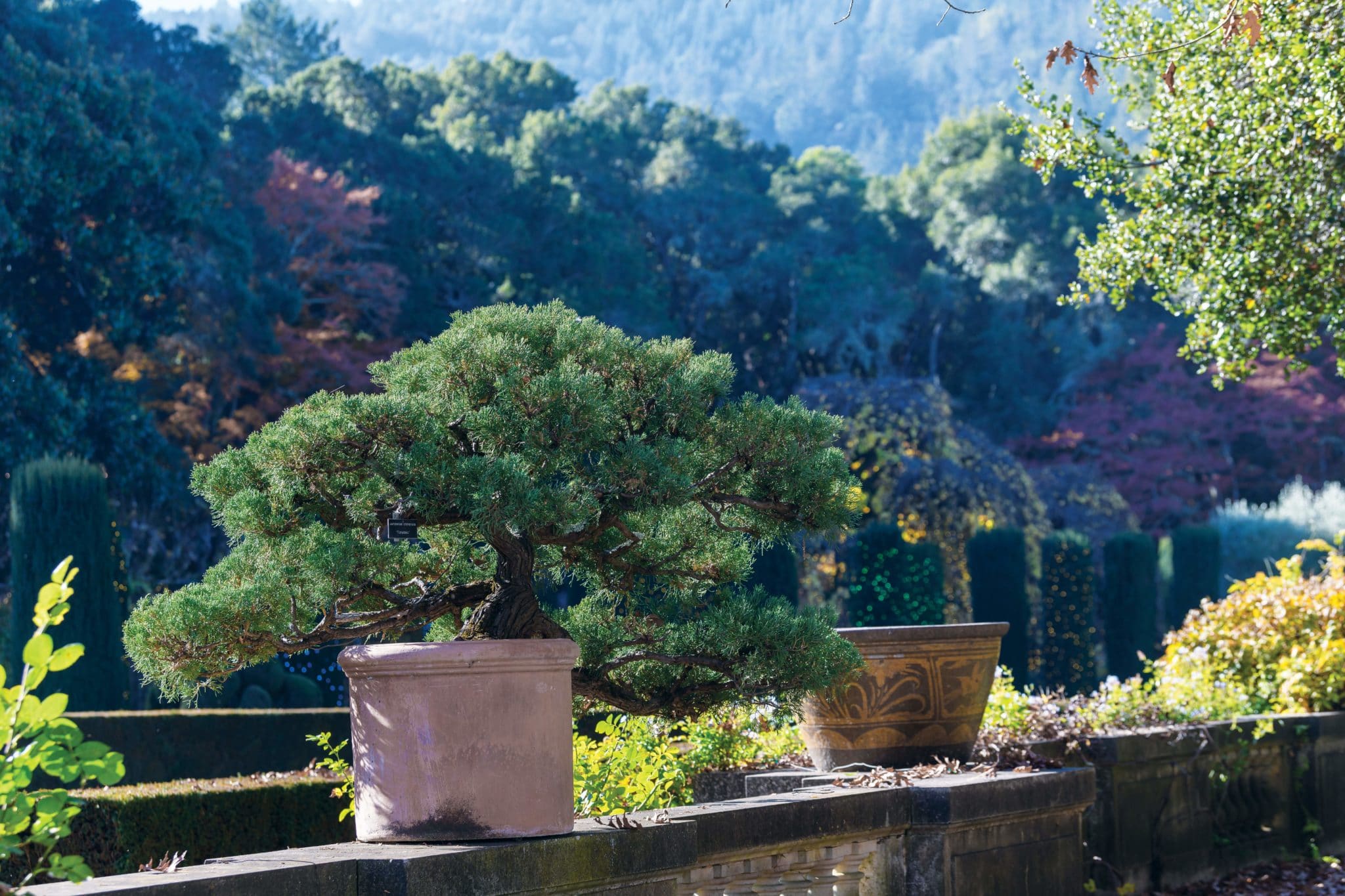 Season Offers In-Person and Virtual Moments of Beauty: Daytime Strolls in Nature, Haiku Contest, Bonsai Show, and Celebrations of Diversity
WOODSIDE, Calif., January 13, 2021 — Filoli Historic House and Garden, a site of the National Trust for Historic Preservation and one of the last country estates reminiscent of the Gilded Age, today announced its initial programming for the winter 2021 season, running now through March 1. For the first time, Filoli will exhibit its extensive collection of more than 50 bonsai, including 100-year-old junipers and more unusual pomegranate and live oak bonsai. Although the historic House will remain closed until COVID-19 restrictions have been eased, Filoli's 16-acre English Renaissance Garden and one-mile Estate Trail are open for daytime strolls in beauty and nature. On Martin Luther King Jr. Day, Filoli will transform the Garden House lawn into a reflective space where guests can hear recordings of famous oratories from past and present-day civil rights movements. Filoli will also host new tours, along with its second annual winter garden haiku poetry competition, through online channels.
"Our bonsai collection makes the perfect partner to our haiku contest, as both art forms require careful control, one of pruning and the other of words," said Kara Newport, Chief Executive Officer of Filoli. "Words will also play an important role as we honor Dr. Martin Luther King Jr. this month and as we move into February, celebrating Black History Month and Lunar New Year. Right now, we are taking a seasonal pause in the peace and quiet of winter to reflect on our own collections and community—past and present—and bring important and untold stories to light."
Bonsai Show
January 15 – February 28, 2021 (Garden House and Dining Room Terrace)
Bonsai plants are artful, miniature replicas of full-grown trees in nature. Filoli's collection of more than 50 bonsai, never before put on public display, includes pine, wisteria, blue Atlas cedar, cryptomeria, elm, white fir, ginkgo, ivy, spruce, maple, boxwood, and other species. Some of the older and larger bonsai date back to the Bourn (1917-1936) and Roth (1937-1975) eras, while many of the smaller plants were donated after Filoli opened to the public in 1977. This winter, for the first time, visitors will have the opportunity to view some of Filoli's unique bonsai specimens and learn about the history and horticulture of the collection. Filoli admission is required. For tickets or more information, visit: filoli.org/bonsai.
Winter Garden Haiku Contest
Submissions due by January 31; Winners announced February 14
Filoli is pleased to bring back for a second year its Winter Garden Haiku Poetry Competition, open to all. Entrants may submit up to three original, previously unpublished poems in the 5/7/5 format that reflect or are inspired by the beauty of Filoli's garden in winter. San Mateo County Poet Laureate Aileen Cassinetto will judge the entries blind, selecting ten finalists and awarding prizes for first and second place (adult) and best under 18 years of age. Entries must be submitted by January 31, 2021 at midnight PST. Finalists will be announced on the website on February 10, 2021. The winners will be announced via Zoom on February 14, 2021. For more information and to submit an entry, visit: filoli.org/haiku.
Martin Luther King, Jr. Day
Monday, January 18, 2020 (Garden House Lawn)
Filoli will honor the late Dr. Martin Luther King Jr. by offering an immersive experience on the Garden House lawn where guests can hear famous oratories of the civil rights movement, including speeches from Dr. King and the more recent Black Lives Matter movement. The Garden House lawn offers guests a historic space to reflect upon the words that incited change, understanding, and cultural shifts in the nation. Filoli admission is required. For tickets or more information, visit: filoli.org/event/martin-luther-king-day.
New Virtual Resources
In addition to the hardcopy Filoli Visitor Guide available for purchase with admission, Filoli has created, or partnered to offer, several digital resources to help visitors learn more about the estate and its collections. An online Scavenger Hunt and downloadable Family Activity Guide are available on the Filoli website. To help identify the plants they see while at Filoli, visitors with iPhones or other smart devices can download PlantSnap, a free plant-identification application available from the Apple App Store or Google Play. In winter, the Garden reliably displays verdant foliage and pops of color from the early blooms of narcissus, baby blue eyes, and camellias. Filoli's camellia collection is a key player in the winter Garden, with nearly 300 shrubs of over 125 varieties. For seasonal information about plants currently in bloom at Filoli, bookmark Filoli's "What's Blooming" web page.
Filoli also released today a new video tour of highlights from its Asian art collection, which spans over six centuries and a dozen countries. Filoli Interpretation Manager Willa Brock gives viewers a close-up look at the intricate artwork while sharing the history of various pieces, including a large, 12-panel coromandel screen from China, a set of 12 Shiwan-style ceramic Zodiac figures from the Qing dynasty, and, the oldest piece on display in the House, a blue and white jar from the 1400s or 1500s made in the region now known as Vietnam. The virtual Asian art collection video tour is now available on the Filoli YouTube channel.
Additional programming for the winter season is to be announced at a later date. For more information or to purchase tickets, click the links above or visit: filoli.org/events/winter.
COVID-19 Precautions
Filoli is open daily from 10:00am to 5:00pm with limited admission every day. All tickets, including member reservations, must be purchased online in advance. Please visit filoli.org/visit for ticket information and visiting guidelines. Visitors follow a one-way path through the expansive Garden, historic House (if open), and Estate Trail and are expected to adhere to all local guidelines for social distancing. Face coverings must be worn in accordance with local requirements at all times.
About Filoli
Located south of San Francisco in Woodside, California, Filoli boasts 654 acres of beauty nestled along the slopes of California's coastal range. Originally built as a private residence in 1917, Filoli was opened to the public in 1977 as a 501(c)(3) nonprofit organization and site of the National Trust for Historic Preservation. The property is considered one of the finest remaining country estates of the 20th century, featuring a 54,000+ square-foot Georgian revival-style mansion, 16 acres of exquisite English Renaissance gardens, a 6.8-acre Gentleman's Orchard, and a nature preserve with eight miles of hiking trails. Filoli is dedicated to connecting our rich history with a vibrant future through beauty, nature and shared stories, so that one day all people will honor nature, value unique experiences, and appreciate beauty in everyday life. For more information about Filoli, visit filoli.org.
Contact:
Filoli Historic House & Garden
86 Cañada Road
Woodside, CA 94062
(650) 364-8300
press@filoli.org
###