Filoli Historic House and Garden Serves Peace and Calm for the Holidays, Now Every Day and Night of the Week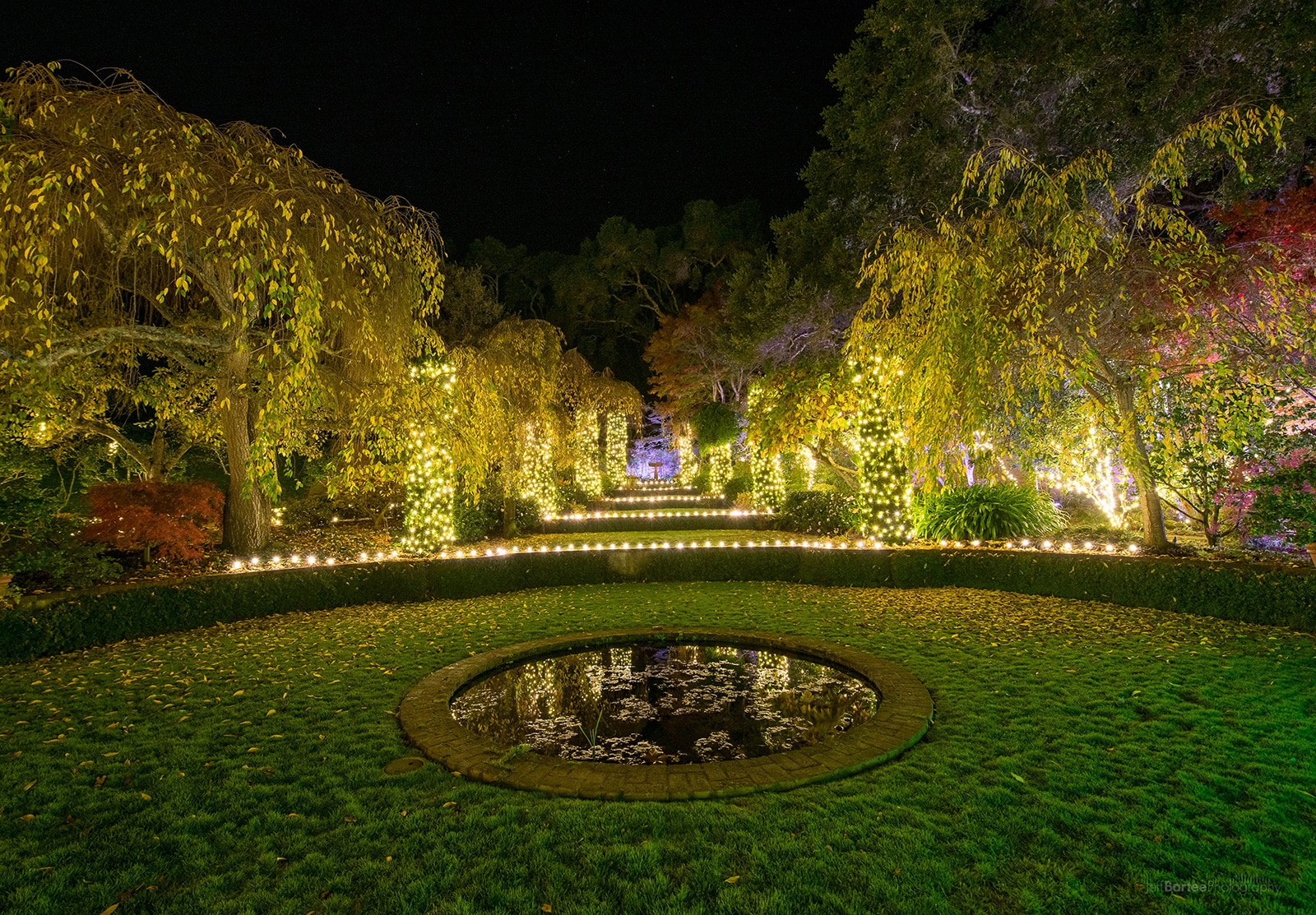 Holidays and Santa Return to Filoli in 2020 with Extended Seasonal Hours, Expanded Light Displays, and New Shopping and Sensory Experiences
WOODSIDE, Calif., October 14, 2020 — Filoli Historic House and Garden, a site of the National Trust for Historic Preservation and one of the last country estates reminiscent of the Gilded Age, today announced its 2020 Holidays at Filoli schedule of special events and programming. From November 21, 2020 to January 3, 2021, visitors can enjoy the festively decorated House with new sounds and scents of the season, as well as magical outdoor light displays that now extend into the Woodland Garden, where cozy fire pits and holiday libations beckon. Santa Saturdays, a family tradition for many, are back—with a twist—and new, themed Monday nights invite visitors to show off their individual holiday spirit. Open daily for both daytime and evening admission, Holidays at Filoli offers a calming, welcome escape to beauty and nature at the end of a trying year for the community.
"With the challenges we have all experienced in 2020, hope for a season that brings peace and calm is central as Filoli serves our community as a place of respite," said Kara Newport, Chief Executive Officer at Filoli. "To spread a season of cheer, we have extended our Holidays program into January 2021 and, for the first time, we will be open every night of the week for Holiday Lights. This will allow for slower-paced visits with many moments of beauty throughout the House and Garden. And, we will have all of the measures in place for social distancing, so that visitors can comfortably enjoy this magical time of year with intimate experiences."
In the Garden, Filoli will bring back its dazzling light displays, going above and beyond last year's exhibition to incorporate the Woodland Garden and Garden Court spaces to allow for greater social distancing. In the House, new sounds and scents will accompany festive décor to bring Holidays at Filoli to life in a low-touch manner; more than 14 decorated trees will be on display. In the Reception Room, the great tree will be adorned in mixed metals, browns, and greens inspired by one of the estate's 17th-century French tapestries. The Reception Room will also feature the scent of freshly cut greens while portraying the Roth family hosting a 1950s holiday party. In the Kitchen, 1940s wartime tunes, cooking sounds, and the scent of freshly baked cookies will permeate the space, helping guests imagine the Bourn-era staff hard at work making seasonal delicacies. There will be classic Christmas hits playing, along with a virtual emcee encouraging dancing, in the Ballroom. In the family room, vintage Christmas-themed commercials will play on the television as the Roths play cards. In the Dining Room, the Bourns will host a grand meal with piano music and lively discussion.
Holidays at Filoli 2020 Schedule
Filoli will be open for the holiday season from November 21, 2020 (the Saturday before Thanksgiving) through January 3, 2021, daily from 10:00am to 4:00pm. Evening admission featuring holiday lights will also be available daily from 4:00pm to 8:00pm. Both House and Garden, as well as the Clock Tower Shop, will be open during all holiday hours. Note: Filoli will be closed on Thanksgiving Day, Christmas Eve, Christmas Day, and New Year's Eve.
Holidays at Filoli Admission Pricing
Tickets are on sale now and must be purchased online in advance. Capacity is limited, and peak days and nights are expected to sell out. Members and visitors are encouraged to make plans and purchase tickets early at www.filoli.org/events/holidays.
Daytime Admission (10am – 4pm)
Adult: $28 Non-member; $15 Member
Children (5-17): $15 Non-member; $8 Member
Children under 5: Free
Evening Admission (4pm – 8pm)
Adult: $38 Non-member; $25 Member
Children (5-17): $20 Non-member; $12 Member
Children under 5: Free
Holidays at Filoli Special Events
Unless otherwise noted, admission to the events below are included with Holidays at Filoli general admission.
Santa Saturdays
December 5, 12, 19 (10:00am – 4:00pm)
Ever-popular Santa Saturdays are returning this season with a twist: Santa will be located outdoors on the Woodland Garden Court and available for socially distanced selfies with children and families. Children can dance to holiday music by the fire pits.
Theme Nights on Mondays
November 23 to December 28 (4:00pm – 8:00pm)
A different fun and festive theme every Monday night is sure to make the holidays extra merry and bright. Visitors whose attire matches the theme will take home a special gift.
November 23: Night Lights
November 30: Festive Face Masks
December 7: Holiday Hats
December 14: Holiday Pajama Party
December 21: Winter Solstice
December 28: Vintage Christmas
Filoli will also reward visitors on National Ugly Sweater Day, Friday, December 18.
Unique Shopping in the Clock Tower Shop
The Clock Tower Shop will once again be stocked with a wide variety of beautiful, unique items and delicious treats perfect for gift-giving. Featured products include ornaments, foodstuffs, décor inspired by the flora and fauna found at Filoli, as well as a new Christmas Snow scent with hints of pine, cedarwood, and amber from Michel Design Works. Cookie ornaments, tea towels, baking dishes, cookbooks, and more from Mrs. Claus' Bake Shop will delight cooks and bakers, while Santa's elves have also been hard at work in the Filoli toy shop. Look for nostalgic blown glass ornaments and classic gifts from yesteryear, including wind-up toys, stuffed animals, and rocking horses, for kids of all ages. And, the holiday-favorite Mucros scarves, capes, and hats will return for the winter season, along with pre-chilled and ready-to-plant tulip and daffodil bulbs purchased directly from Holland.
Festive Food, Treats, and Libations
In the Quail's Nest Café, The Town Kitchen will feature peppermint hot chocolate and seasonal coffee drinks, holiday cookies and confections, and hearty soups, pastries, salads, and sandwiches for sale. The café, now serving beer and wine daily, will be open 9:30am to 7:30pm. A new, outdoor holiday bar will be set up from 12:30pm to 7:30pm on the Woodland Garden Court, where visitors can enjoy wine, beer, and mixed cocktails—as well as Filoli's infamous warmed mulled wine, spiced cider, and hot chocolate—by the crackling glow of the fire pits. There will also be a specialty coffee bar in the Garden.
For more details and pricing information on this year's Holidays at Filoli program or to purchase tickets, please visit: www.filoli.org/events/holidays.
A curated selection of images of Holidays at Filoli are available for download and use at:
www.filoli.org/media/holiday-images.
Be sure to share your Filoli experiences on social media using the hashtag #HolidaysAtFiloli.
COVID-19 Precautions
Filoli is open with limited admission every day. All tickets, including member reservations, must be purchased online in advance. Please visit www.filoli.org/visit for ticket information and visiting guidelines. Visitors follow a one-way path through the Garden, historic House, and Estate Trail and are expected to adhere to all local guidelines for social distancing. Face coverings must be worn in accordance with local requirements at all times.
About Filoli
Located south of San Francisco in Woodside, California, Filoli boasts 654 acres of beauty nestled along the slopes of California's coastal range. Originally built as a private residence in 1917, Filoli was opened to the public in 1976 as a 501(c)(3) nonprofit organization and site of the National Trust for Historic Preservation. The property is considered one of the finest remaining country estates of the 20th century, featuring a 54,000+ square-foot Georgian revival-style mansion, 16 acres of exquisite English Renaissance gardens, a 6.8-acre Gentleman's Orchard and a nature preserve with over seven miles of hiking trails. Filoli is dedicated to connecting our rich history with a vibrant future through beauty, nature and shared stories, so that one day all people will honor nature, value unique experiences and appreciate beauty in everyday life. For more information about Filoli, visit www.filoli.org.
Contact:
Filoli Historic House & Garden
86 Cañada Road
Woodside, CA 94062
(650) 364-8300
press(at)filoli.org