Filoli Historic House and Garden Earns 10Best Readers' Choice Award for Best Holiday Historic Home Tour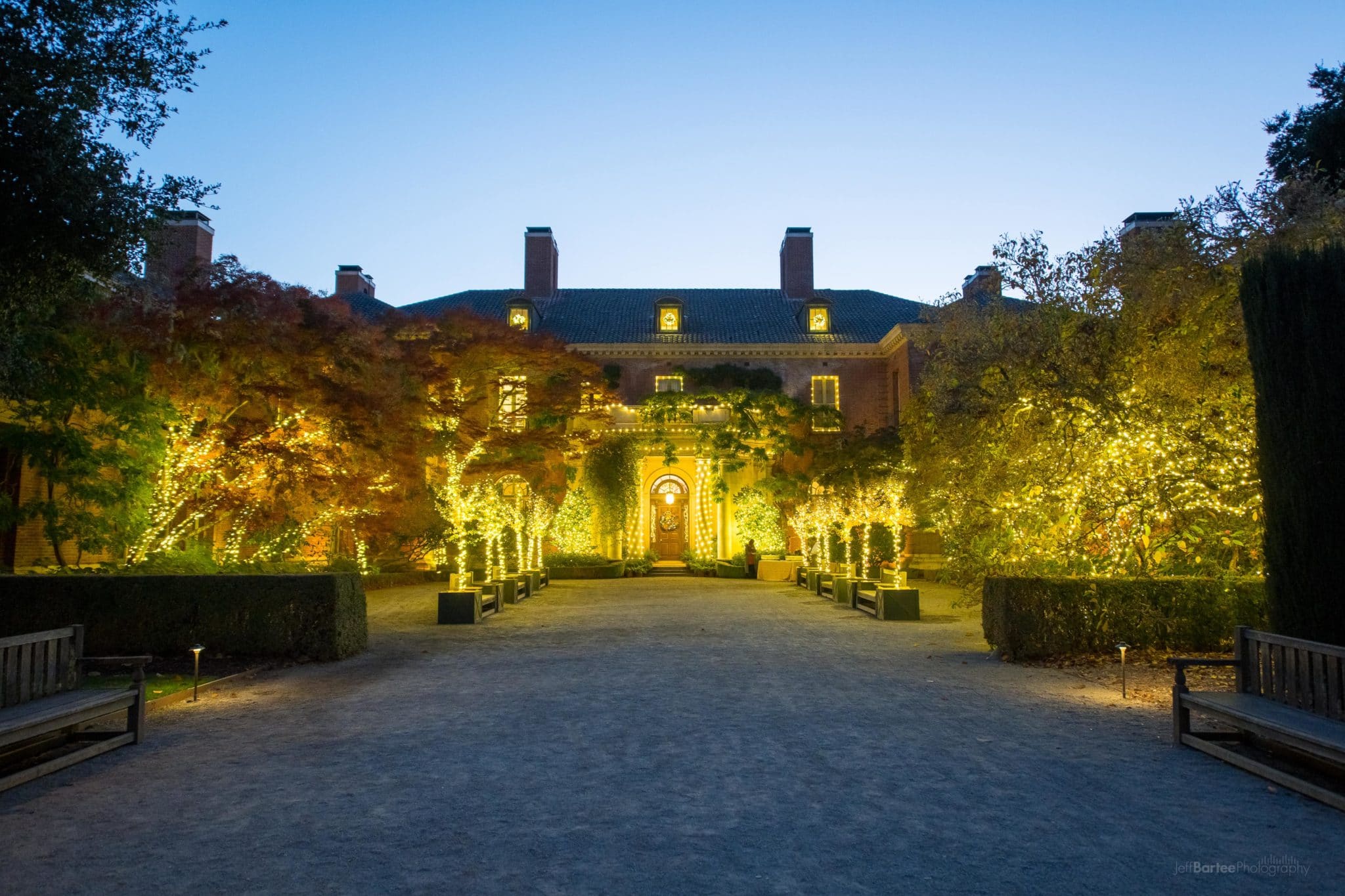 San Francisco Bay Area Landmark Places Ninth in USA TODAY National Contest; Introduces New Virtual Tour of Festively Decorated Mansion
WOODSIDE, Calif., December 18, 2020 — Filoli Historic House and Garden, a site of the National Trust for Historic Preservation and one of the last country estates reminiscent of the Gilded Age, today announced that it has won a 2020 USA TODAY 10Best Readers' Choice Award in the "Best Holiday Historic Home Tour" category. The 654-acre estate, located just 25 miles south of San Francisco, placed ninth out of ten winning homes and 20 nominees from across the United States. The winners were announced today and chosen by the public after four weeks of voting online for their favorite holiday historic home tour. With the estate's 54,000-square-foot Georgian revival-style mansion closed for the remainder of the year due to the pandemic, Filoli also announced today a new virtual tour of the home's interior spaces festively decorated for the holidays. The virtual Holiday House Tour is available now on the Filoli YouTube channel.
"We were proud to be nominated and are so grateful to everyone who voted for Filoli this year, when we were unsure if our holiday program would even be possible," said Kara Newport, Chief Executive Officer at Filoli. "We are fortunate, with our vast Garden and Nature Preserve, to be able to continue serving our community's essential need for low-risk outdoor experiences this holiday season. And while the historic House is closed for in-person tours, we are so pleased to welcome visitors virtually through our social media channels."
Each year during the holidays, the Holidays at Filoli program offers family-friendly experiences with visits from Santa, musical performances, unique shopping and dining opportunities, a festively decorated mansion, and dazzling displays of holiday lights throughout eight acres of formal gardens. For most of this year's holiday season, San Mateo County has been in the highest (purple) tier of restrictions due to COVID-19, and residents are now under a stay-at-home order that went into effect at midnight last night. Operating at 25% capacity and in accordance with state and county guidelines, however, Filoli will remain open for the remainder of the season, keeping the LED holiday lights on in the Garden for both daytime and evening enjoyment. The Clock Tower Shop will also remain open with limited-capacity indoor and outdoor shopping available. The historic House, and all food and beverage services, will be closed.
"It has definitely been an uncertain and challenging year, but we planned appropriately, we are operating responsibly, and we are committed to keeping community spirits high by offering virtual tours and outdoor escapes to beauty and nature, with plenty of space for social distancing," added Newport. "The dedication of our staff and support of our community are what earned us national recognition for our holiday program and has kept Filoli available and accessible to all. We cannot thank them enough."
Filoli earned one of ten 10Best Readers' Choice Awards this year for "Best Holiday Historic Home Tour," along with other notable estates including: Graceland in Memphis, Tennessee; George Washington's Mount Vernon in Mount Vernon, Virginia; and The Breakers & The Elms in Newport, Rhode Island. To learn more about this year's ten best holiday historic home tours and view the complete list of 20 nominees, please visit: www.10best.com/awards/travel/best-holiday-historic-home-tour.
Holidays at Filoli runs from November 21, 2020 through January 3, 2021. For more information, please visit www.filoli.org/holidays.
Be sure to share your Filoli experiences on social media using the hashtag #HolidaysAtFiloli.
About USA TODAY 10Best Readers' Choice Awards
The 10Best Readers' Choice Award contest launches new categories every other Monday at noon, revealing each category's 20 nominees. After 4 weeks of voting, the contest closes on the 28th day at noon. On the Friday after voting ends, winners are revealed. Rules allow the public the right to vote online for one nominee per category, per day.
Nominees for all categories are chosen by a panel of relevant experts, which include a combination of editors from USA TODAY, editors from 10Best.com, relevant expert contributors, and sources for both these media and other Gannett properties. The nomination panel for each award category is displayed on its associated contest page. All voting is digital and the contest is accessible on the 10Best.com website.
About 10Best.com
10Best.com provides users with original, unbiased, and experiential travel content of top attractions, things to see and do, and restaurants for top destinations in the U.S. and around the world. The core of the site's uniqueness is its team of local travel experts: a well-traveled and well-educated group who are not only experts in their fields – and their cities – but discriminating in their tastes. These local experts live in the city they write about so the content is constantly updated. 10Best.com averages 5 million visitors per month. It was acquired by USA TODAY in January of 2013.
About USA TODAY
USA TODAY is a multi-platform news and information media company. Founded in 1982, USA TODAY's mission is to serve as a forum for better understanding and unity to help make the USA truly one nation. Through its unique visual storytelling, USA TODAY delivers high-quality and engaging content across print, digital, social and video platforms. An innovator of news and information, USA TODAY reflects the pulse of the nation and serves as the host of the American conversation — today, tomorrow and for decades to follow. USA TODAY, the nation's number one newspaper in print circulation with an average of more than 1.6 million daily, and USATODAY.com, an award-winning newspaper website launched in 1995, reach a combined 6.6 million readers daily. USA TODAY is a leader in mobile applications with more than 16 million downloads on mobile devices. USA TODAY is owned by Gannett Co., Inc. (NYSE: GCI).
COVID-19 Precautions
Filoli is open with limited admission every day. All tickets, including member reservations, must be purchased online in advance. Please visit www.filoli.org/visit for ticket information and visiting guidelines. Visitors follow a one-way path through the expansive Garden, historic House (if open), and Estate Trail and are expected to adhere to all local guidelines for social distancing. Face coverings must be worn in accordance with local requirements at all times.
About Filoli
Located south of San Francisco in Woodside, California, Filoli boasts 654 acres of beauty nestled along the slopes of California's coastal range. Originally built as a private residence in 1917, Filoli was opened to the public in 1977 as a 501(c)(3) nonprofit organization and site of the National Trust for Historic Preservation. The property is considered one of the finest remaining country estates of the 20th century, featuring a 54,000+ square-foot Georgian revival-style mansion, 16 acres of exquisite English Renaissance gardens, a 6.8-acre Gentleman's Orchard, and a nature preserve with eight miles of hiking trails. Filoli is dedicated to connecting our rich history with a vibrant future through beauty, nature, and shared stories, so that one day all people will honor nature, value unique experiences, and appreciate beauty in everyday life. For more information about Filoli, visit www.filoli.org.
Contact:
Filoli Historic House & Garden
86 Cañada Road
Woodside, CA 94062
(650) 364-8300
press@filoli.org
###