Thousands drawn to Filoli for the Season 27 premiere of Antiques Roadshow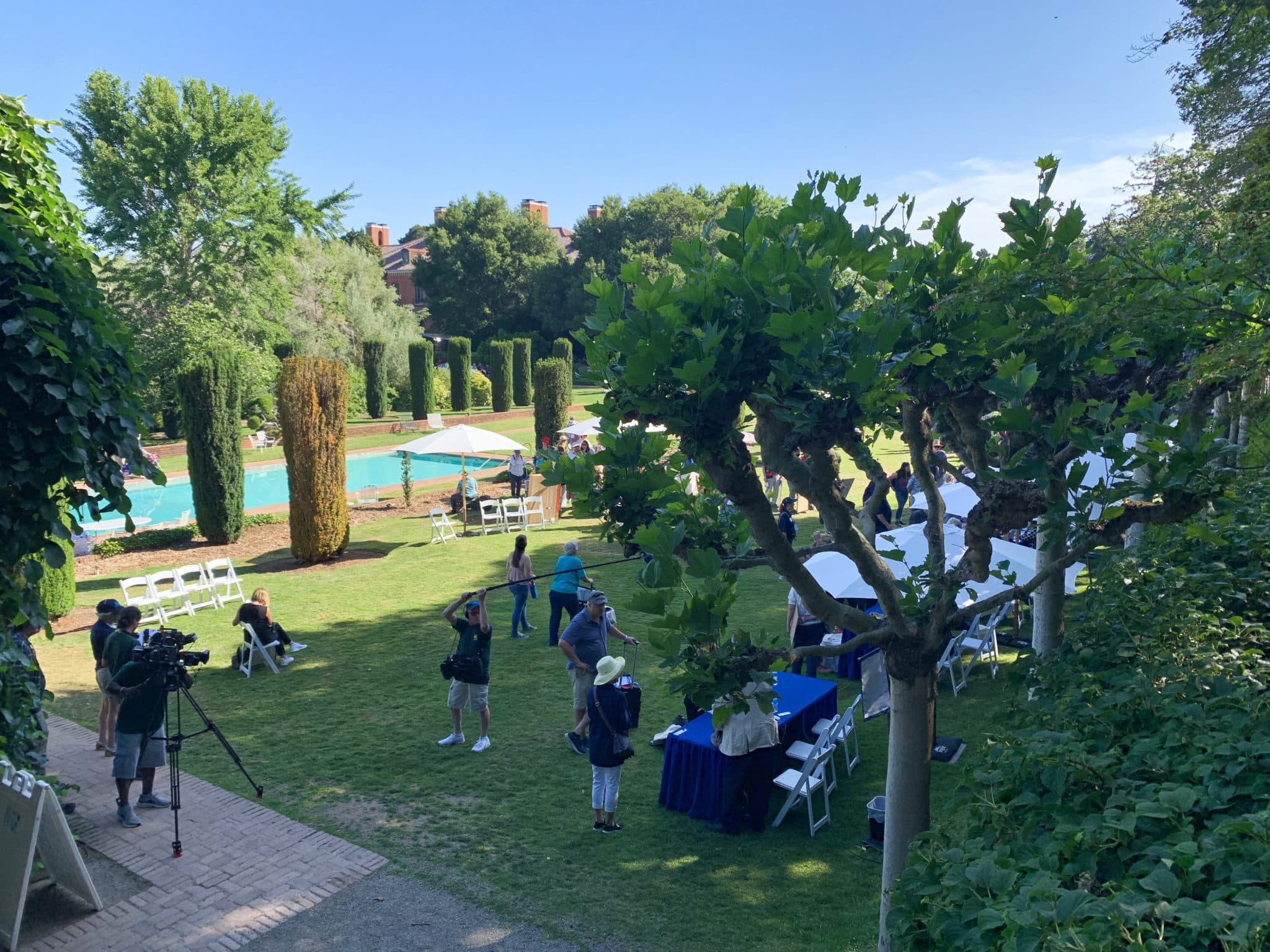 FOR IMMEDIATE RELEASE
WOODSIDE, Calif., December 30, 2022 – Filoli is a nationally recognized Bay Area historic landmark with 16 acres of formal gardens, a 54,000 square foot Georgian Revival style mansion, over 600 acres of protected Peninsula watershed, and visitor amenities like onsite dining and shopping. This year, PBS' Antiques Roadshow will kick-off the 2023 season with three episodes filmed in this picturesque setting on January 2, 9, & 16. For those in awe of the season premiere's backdrop, Filoli has announced 2023 tickets and winter programs on sale to the general public today!
"It was an incredible day of filming," Says CEO Kara Newport, "over 3,000 pre-selected guests were welcomed with treasures in hand while we were closed to the public." Newport reflected on the day of filming noting "Filoli staff and the Antiques Roadshow crew were prepared for anything! Despite a heat wave, and a power outage that lasted all day, filming went off without a hitch."
According to Antiques Roadshow, fascinating Filoli finds from Woodside, California include a "1928 English sterling silver horse, a Pairpoint puffy owl lamp, ca. 1907, and a 1967 Ansaldo Poggi viola." The story of the viola is "almost unheard of" according to the appraiser, who values the beautiful instrument at a whopping $200,000-$330,000!
More treasures found in the hunt at Filoli include a 1976 Apple-I operation manual mock-up for the Apple-II computer; a piece of Silicon Valley history that was rescued from the trash and inspired awe in those who might wonder if the acclaimed tech founder Steve Jobs may have actually touched and worked on this early manual.
Filoli's Director of Museum Collections, Kevin Wisney, says the filming presents a great opportunity to show off the historic House to the PBS audience. "In 2023 we have captivating exhibits planned to share the incredible collection of Filoli's art and antiques," Wisney says. "We hope everyone who loves the treasure hunt style of 'Antiques Roadshow' will be inspired to visit Filoli and take their own dive into history." Tickets are on sale now for 2023 at filoli.org!
The first Filoli Antiques Roadshow episode airs Monday, Jan. 2, 2023 at 8 p.m. on KPBS TV / PBS Video app, and the following two episodes at the same place, same time, on Jan. 9 and 16.
Please email press@filoli.org for more information or to schedule a media visit
Filoli Hours & Admission
Filoli is open every day from 10am-5pm including access to the House, Garden, Estate Trail, Clock Tower Shop, and Quail Café. Buying tickets online is recommended at filoli.org and sell-outs are expected during peak seasons and special events.
About Filoli
Filoli is a vibrant landscape of the Bay Area, situated on the unceded ancestral lands of the Ramaytush Ohlone, in Woodside, California. The estate boasts 654 acres of beauty nestled along the slopes of California's coastal range. Originally built as a private residence in 1917, Filoli was opened to the public in 1975 as a 501(c)(3) nonprofit organization and site of the National Trust for Historic Preservation. The property is considered one of the finest remaining country estates of the 20th century, featuring a 54,000+ square-foot Georgian revival-style mansion, 16 acres of exquisite English Renaissance gardens, a 6.8-acre Gentleman's Orchard, and hundreds of acres of Natural Lands with 5 distinct ecosystems and a 1-mile Estate Trail. Filoli is dedicated to connecting our rich history with a vibrant future through beauty, nature and shared stories, so that one day all people will honor nature, value unique experiences, and appreciate beauty in everyday life. For more information about Filoli, visit filoli.org.
Contact:
Filoli Historic House & Garden
86 Cañada Road
Woodside, CA 94062
(650) 364-8300
press@filoli.org