I've tried to spare you. I really don't want to say it. But here's the thing: We are in unprecedented times. Everything we planned at Filoli this year has not been able to go accordingly. Filoli Pride has been no exception. When we started planning our 2020 celebration this winter we were ecstatic to bring Pride back for the second year in a row; we wanted to try new things and bring new experiences! We had learned so much from the year before, and we were ready to have Pride back and better than ever.
Obviously things changed and we had to adapt. We knew that we could use this time to remember the past year and celebrate the future with images and writing that could be accessed from home. We planned to fulfill our mission of creating a culture of access and inclusion with the tools and resources we had available. I was amazed at the quick response my co-workers had to our unfavorable circumstances. Everyone worked hard to make sure Pride was not pushed to the back burner.
An exciting new feature we planned for 2020 Filoli Pride was our Queer Student Art Show. We wanted to amplify the voices of young LGBTQ+ people who we knew were often left in the margins. Kevin, Brittany (read their blogs here!) and I had discussed a challenge we faced along with many other organizations celebrating pride: ours had been very white, very male centered, and tended to historicize Pride and the celebration of being queer.
We had big plans to bring in breadths from a collection of queer Bay Area students and showcase them here. Though we weren't able to feature these artists in the same capacity or physicality of our original intention, we hope you will celebrate them by checking out their social media and listening to their voices everyday.
---
We are so honored to virtually feature six amazing LGBTQ+ artists for Filoli Pride! This is a small collection of shared stories that without a listener threatens to disappear into the margins. They are biographies that are integral to the causes of history and our understanding of the present. We remember those powerful words: "Silence = Death", and remind ourselves that the struggle for equity, freedom, and safety is not just history; it is here and now. As a cultural institution that (like most) often caters to the center we hope that our celebrations of diversity, inclusion, access and equity can give a voice to the periphery.
---
INTERSECTION FOR THE ARTS CENTER FOR CULTURAL INNOVATION OAKLAND LGBTQ CENTER
---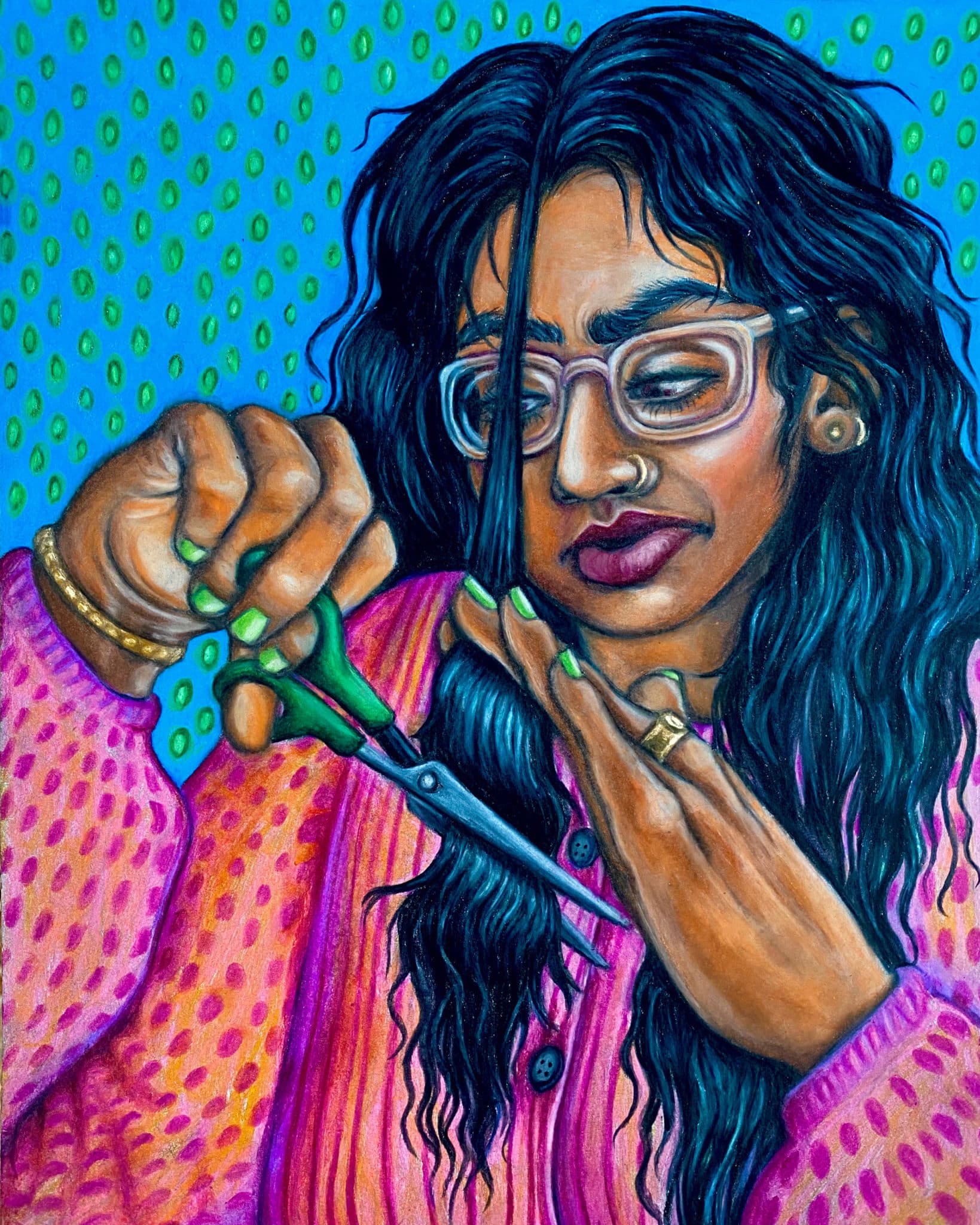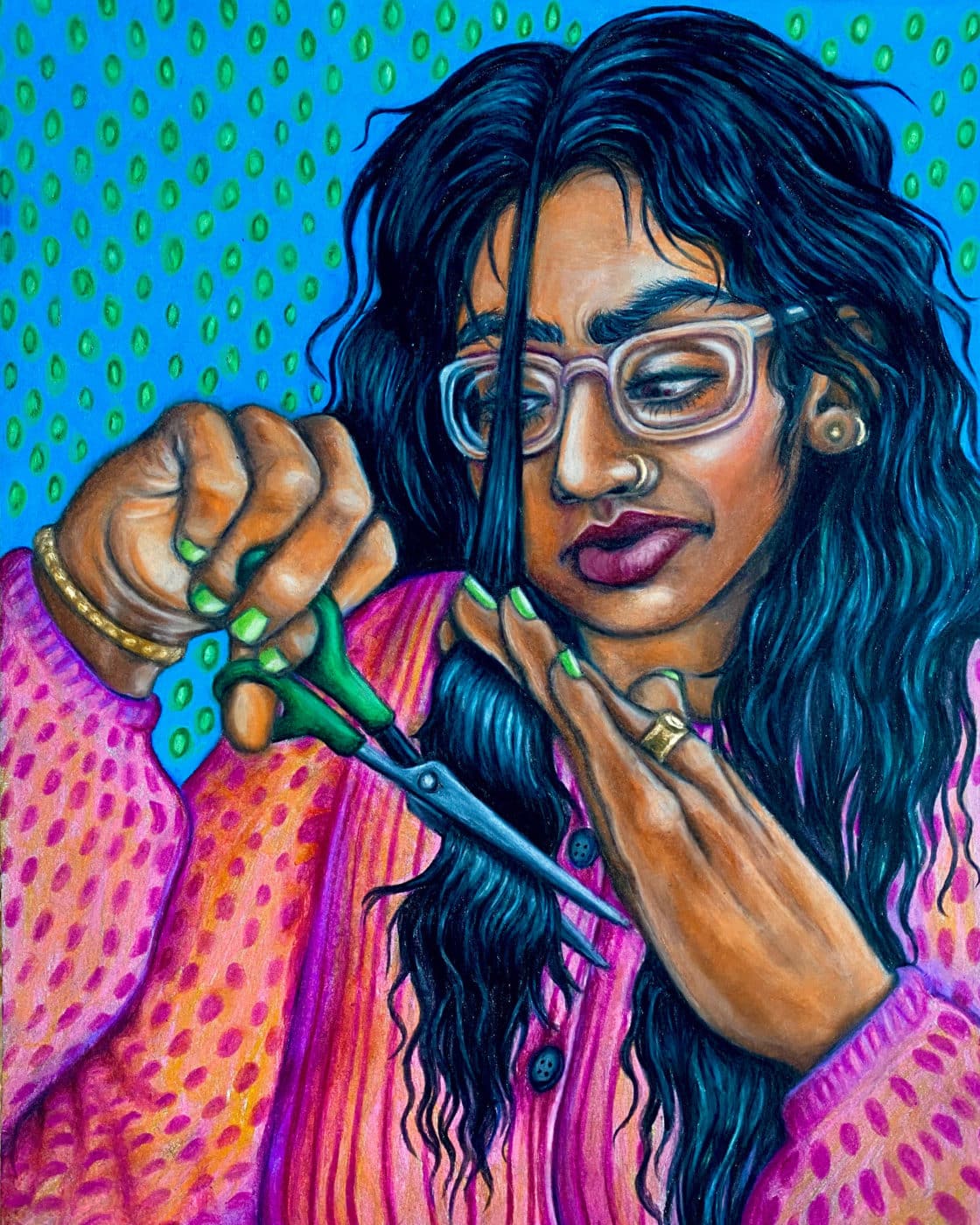 Catherine Rebeiz, Self Haircut
2020
Colored Pencil
COVID-19 brought about a widespread consumer identity crisis; having limited access to material items and beautifying services, cutting one's own hair became a trend. I feel alarmed that the huge frenzy around self haircuts comes from a lot of us truly believing that having control over your own self image is sabotage, and in turn we are better off in the hands of corporations.
@Cakirebeiz
---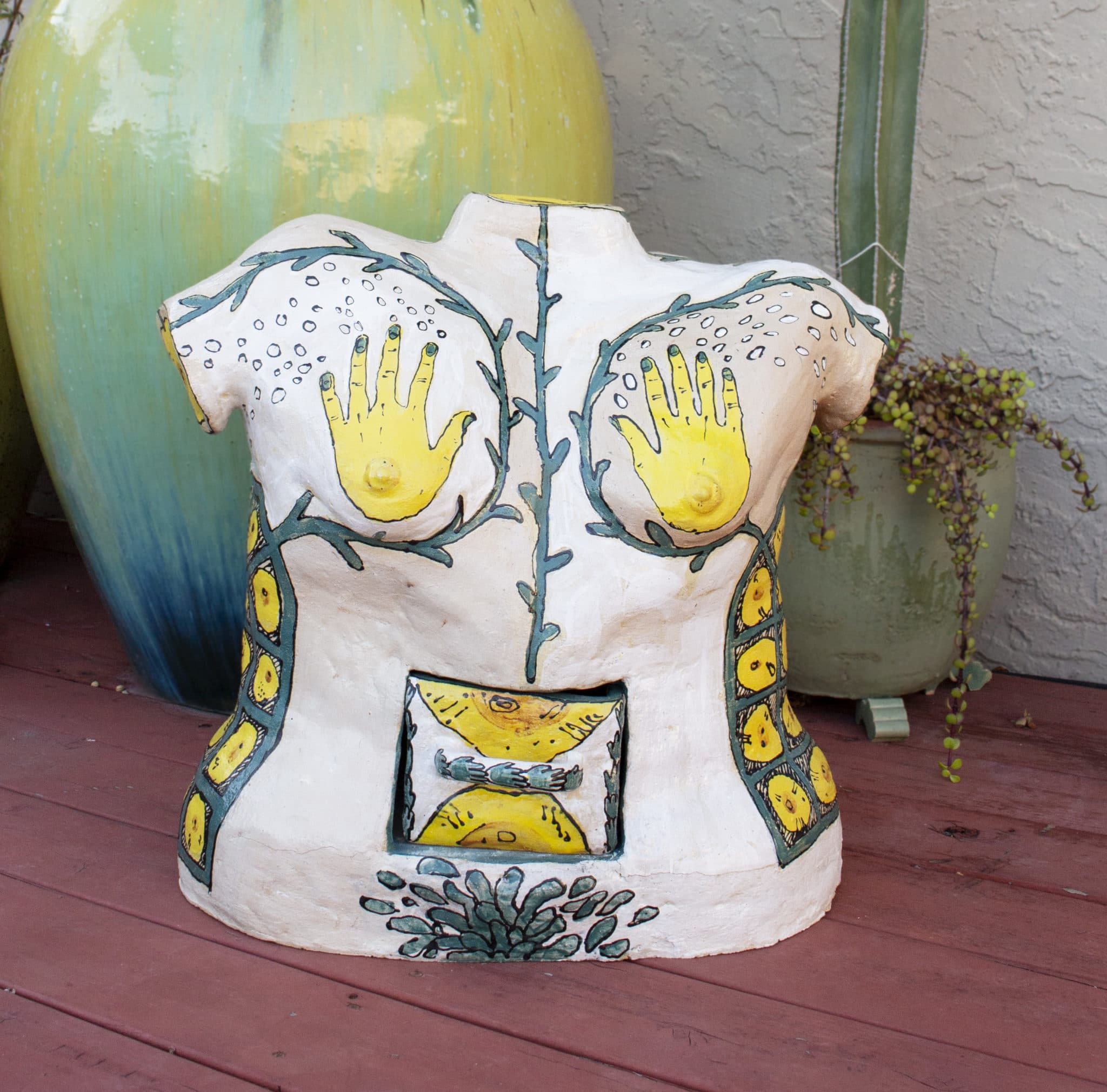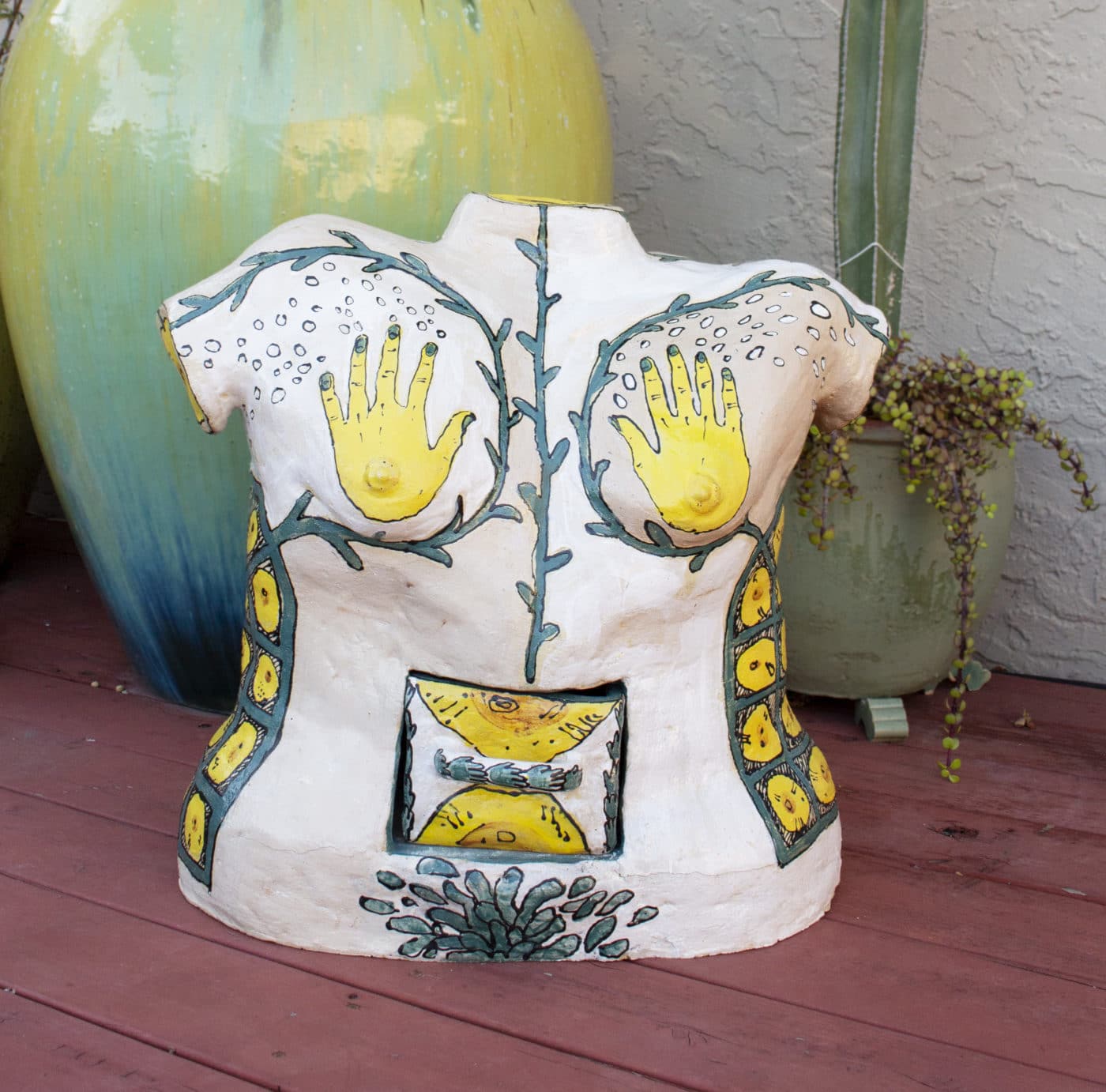 Ray Lewis, Chest
Ceramic and soil
2020.
Chest explores a connection between the gender non-conforming body, structures, and the natural world.
@Byeoh.art
---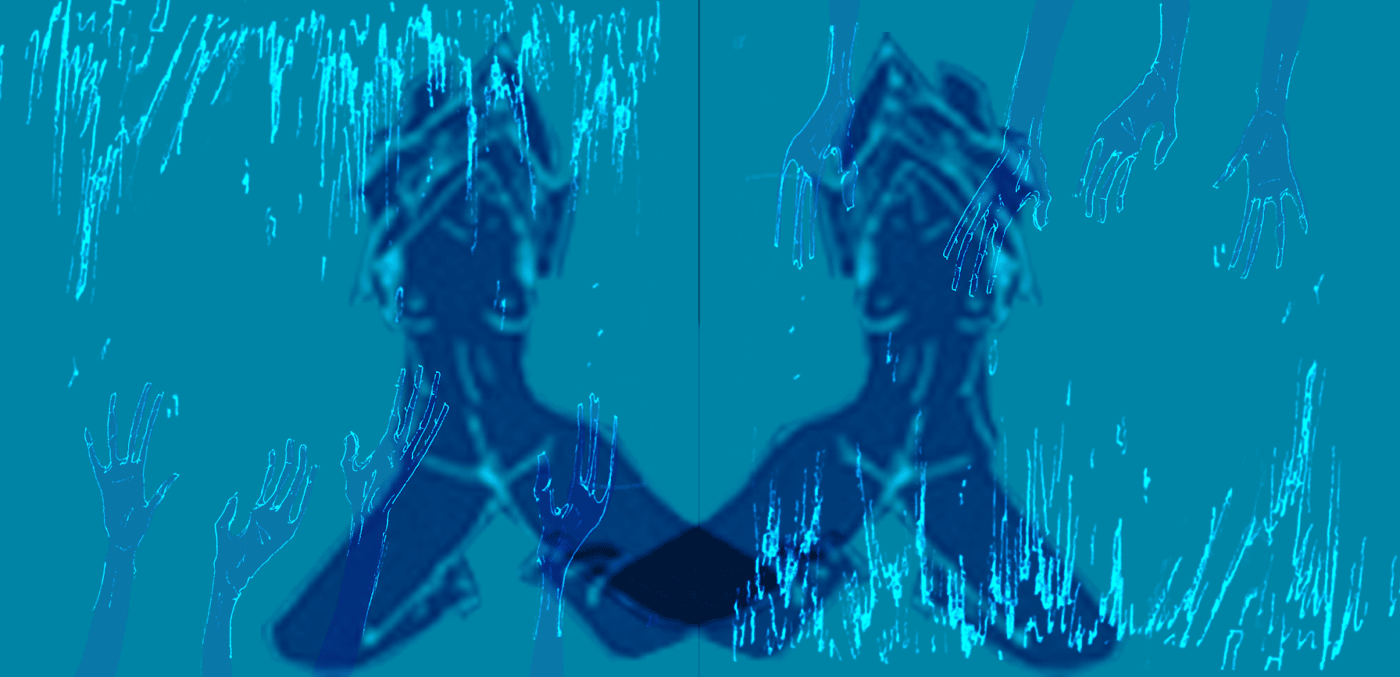 Tiffany Martin, Cupid's Bow
2020, pen and digital media
From "Flame", a lesbian series of illustrations oriented around hookups.
@Tiffsknee
---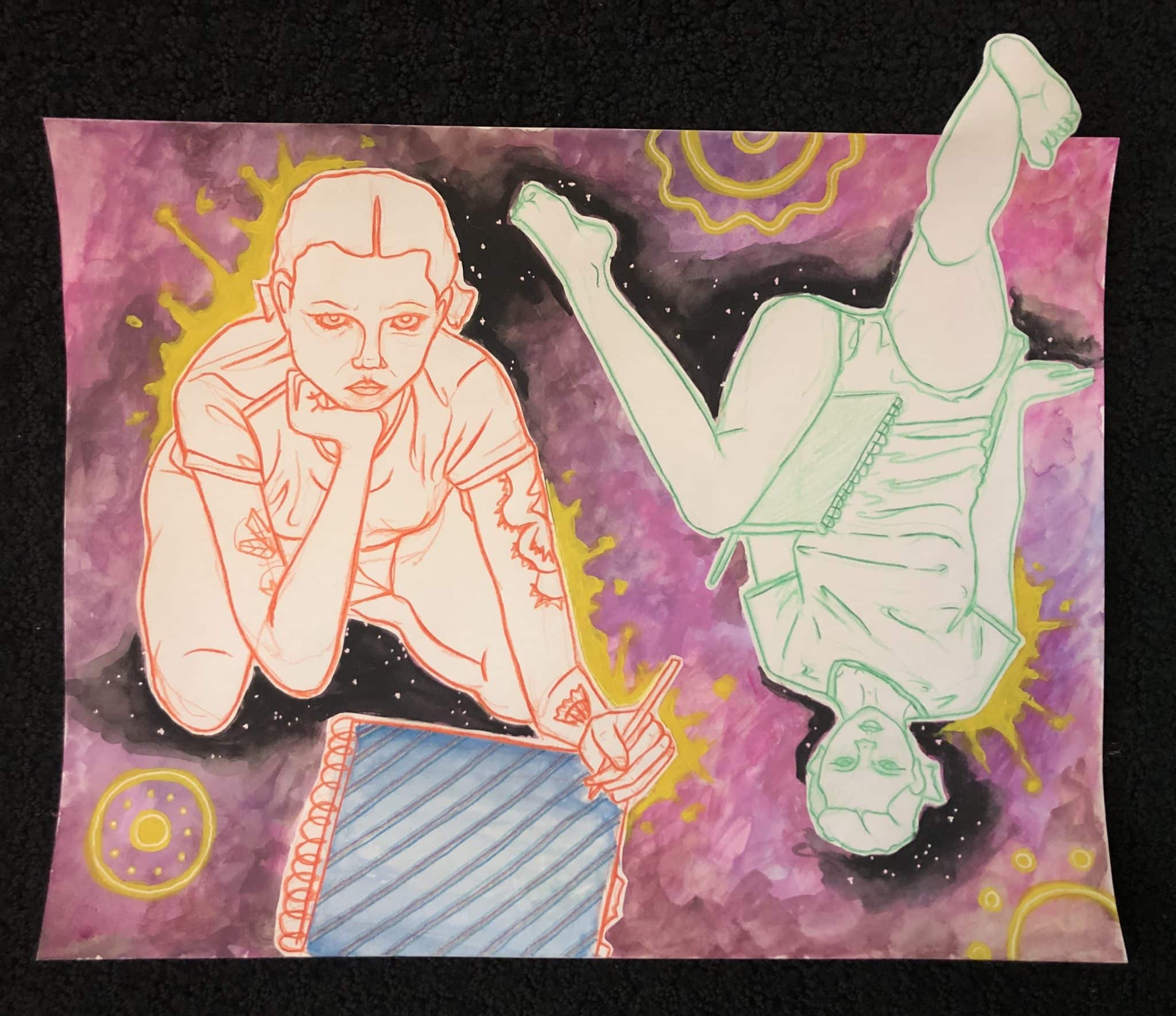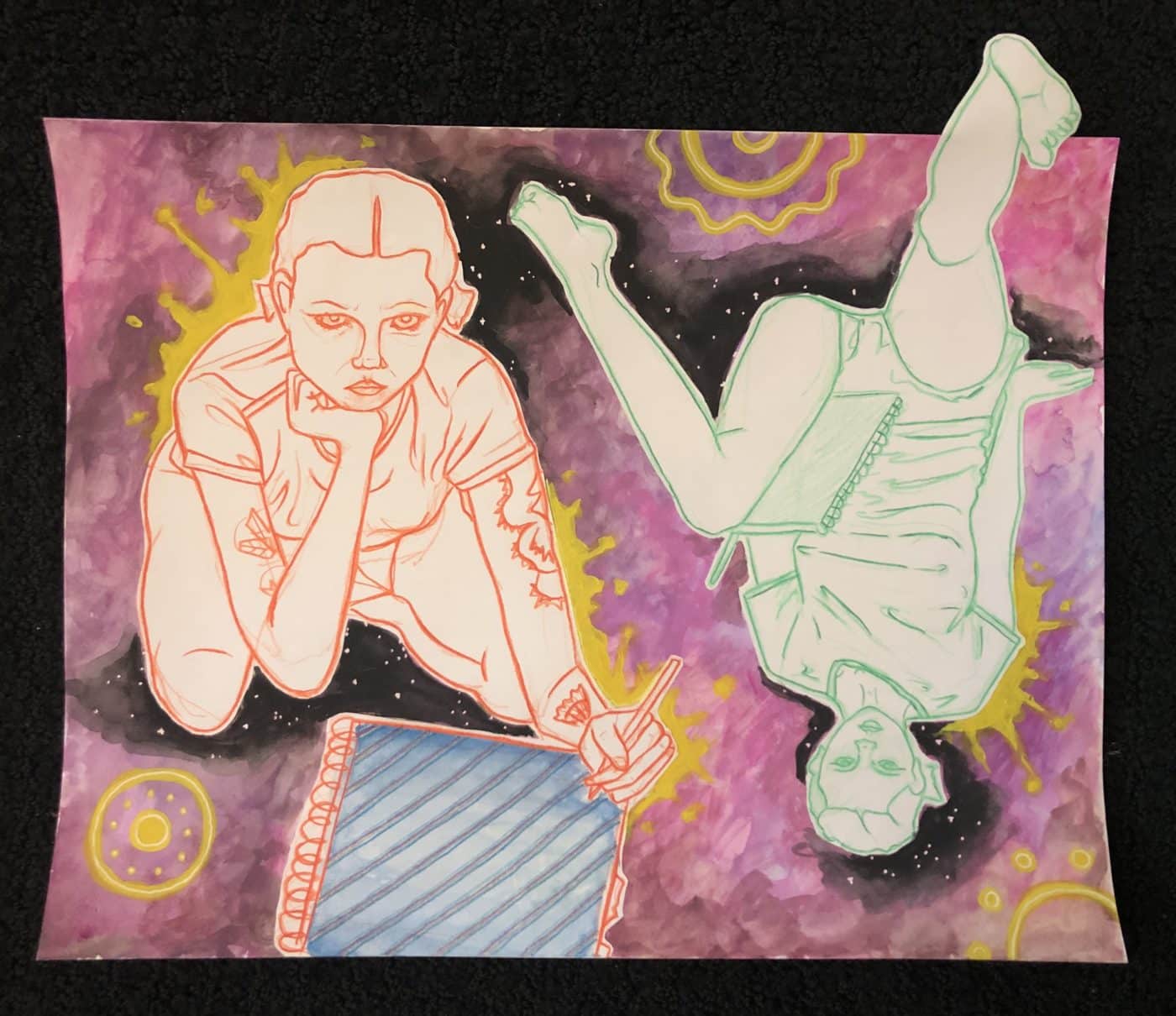 Summer Strom, Extraplanar
2020
collage, colored pencil, gouache
This self-portrait piece marks the beginning of my experimentation with using my reflection as a figure drawing model.
@summers.art.account
---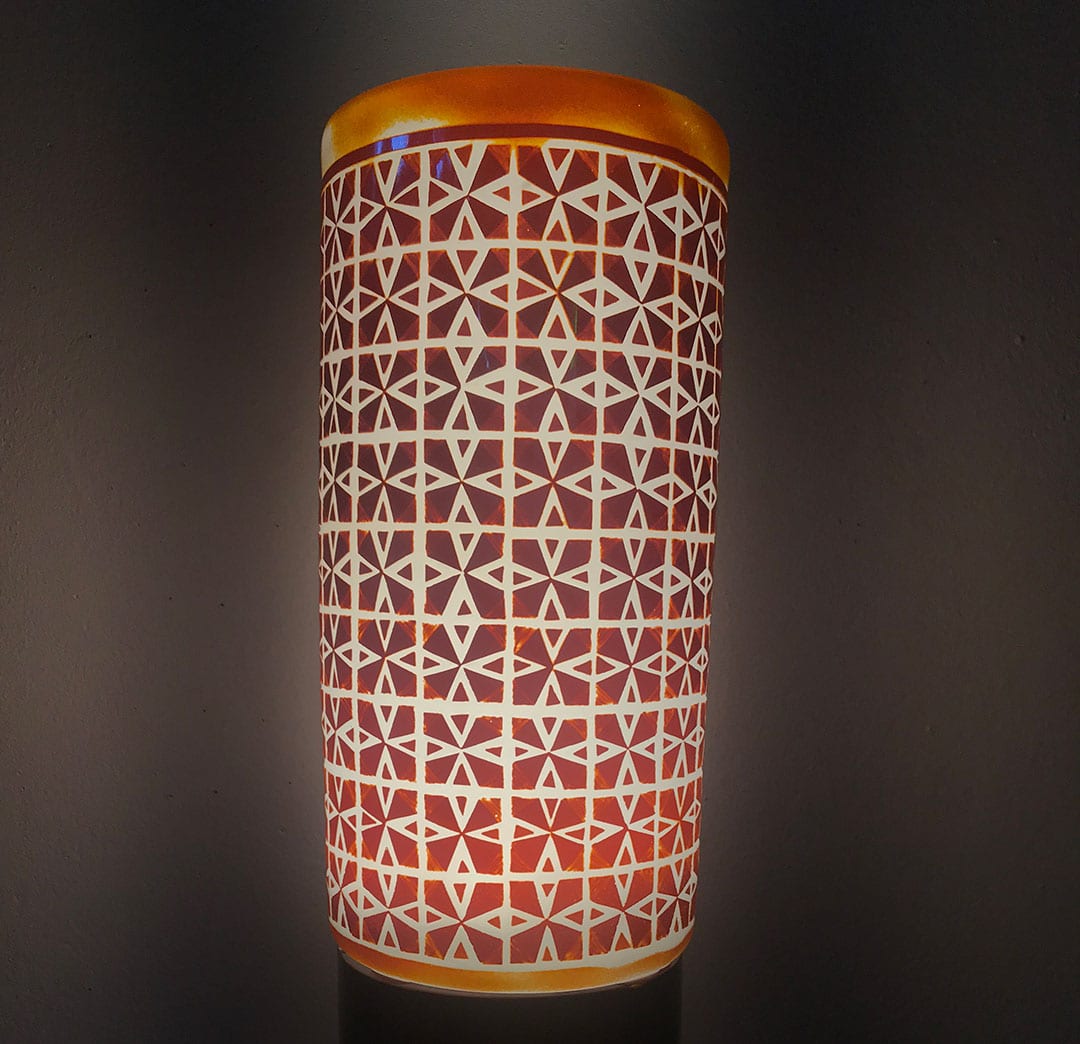 Francesca Bell, Kalos Eidos, Red
2020
Glass lantern with wood base
The title of my work is "Kalos Eidos, Red." Kalos Eidos is greek for "beautiful" and "forms;" The Greek words are part of the etymology of the word kaleidoscope. The pattern of the lantern is a quilting pattern called a kaleidoscope pattern signifying transformation and transition of my relationship between myself and my mother through the past 4 years.
@Frannyblowsglass
---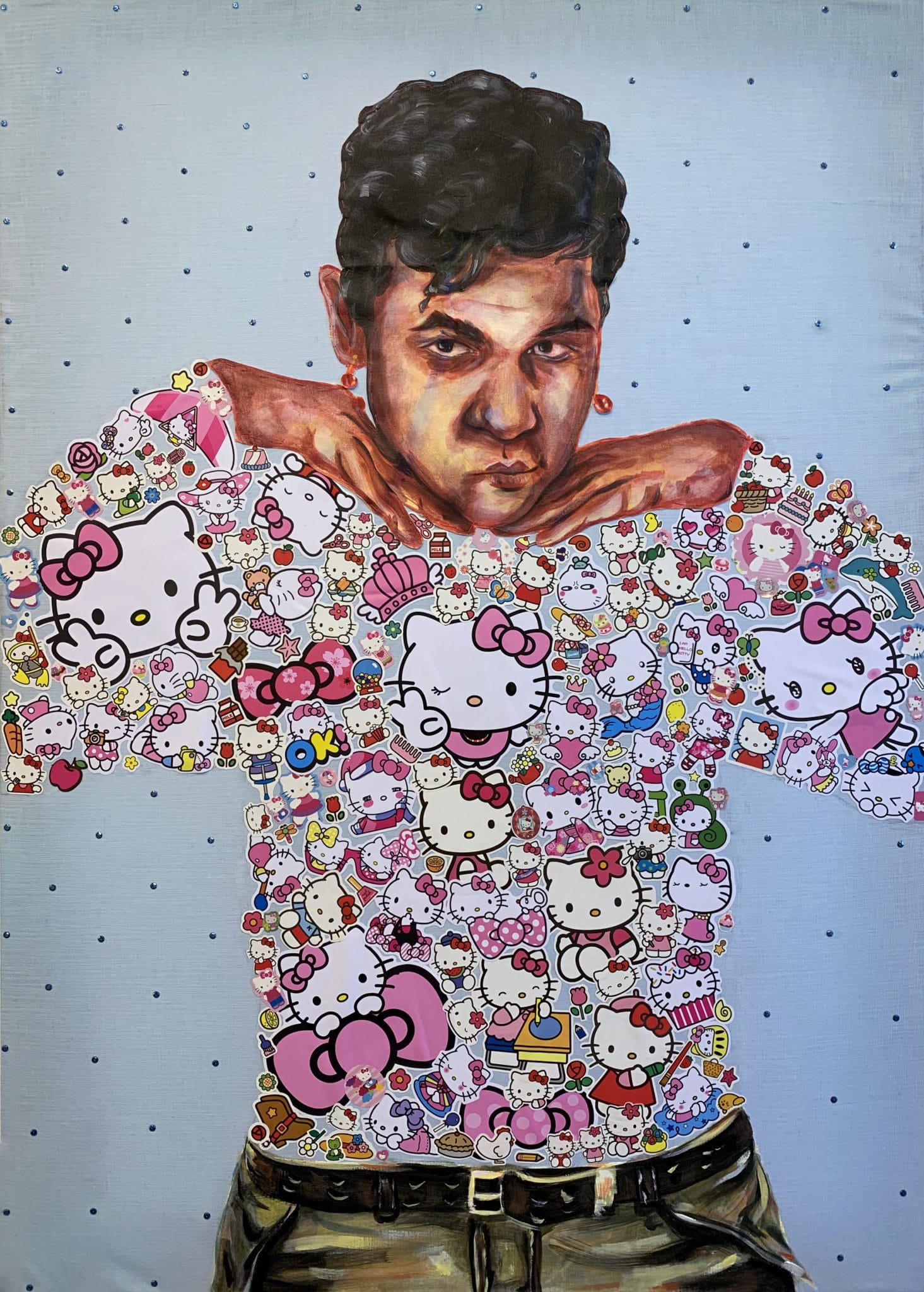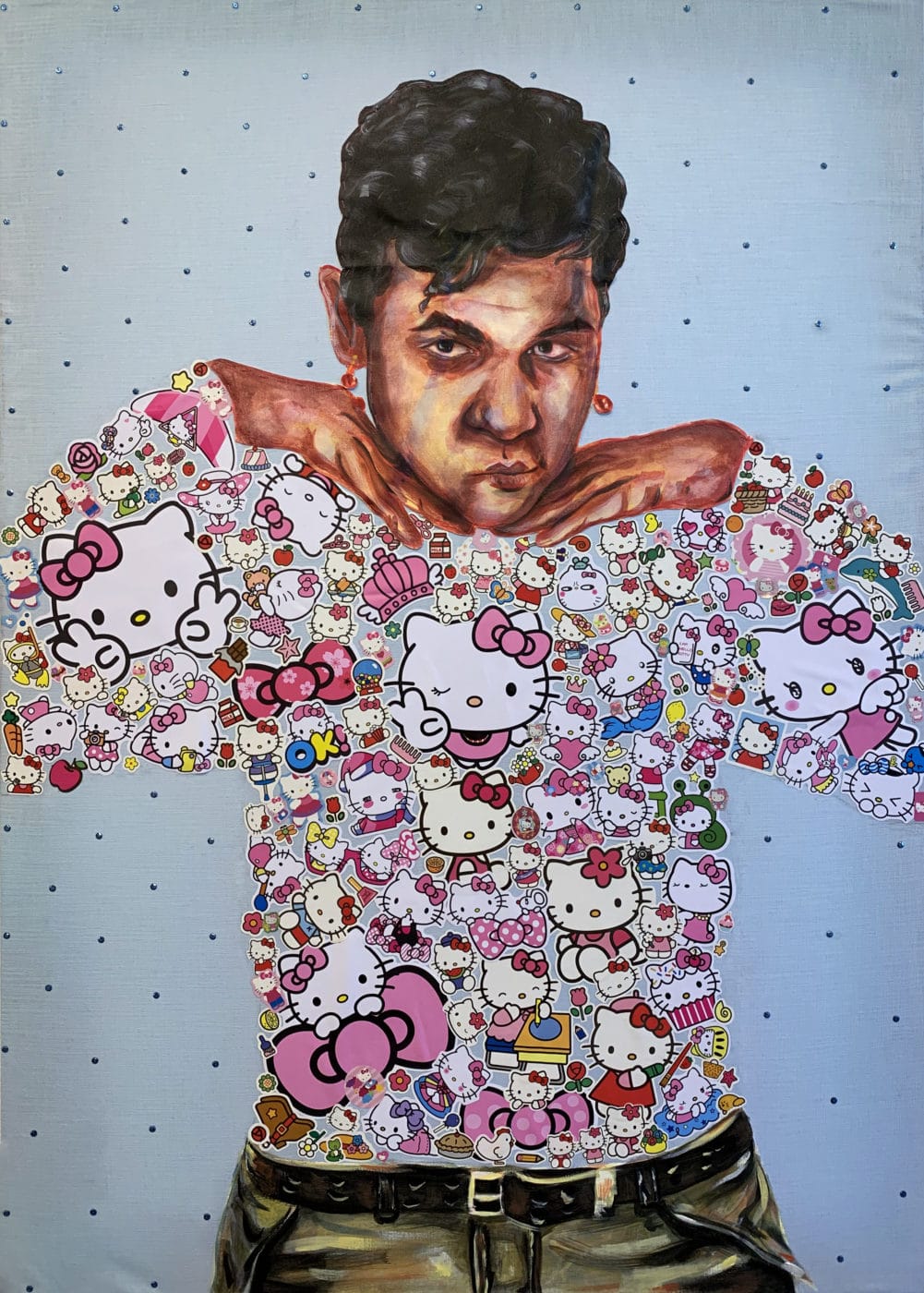 Oscar Ramirez, The Anatomy of OOSK
3ft x 2ft
Fabric, Canvas, Sequin, Stickers, and Acrylic paints
2019
My name is Oscar Ramirez and I am a queer painter and textiles artist studying painting at the California College of the Arts— this multimedia self- portrait was an exploration and more authentic depiction of my character using childhood motifs and characters that were commonly told to me growing up weren't for me, due to growing up as a 'male' in a sometimes machsimo- centered household.
@Oosk.y
---
Dani Hielscher is the Digital Media Specialist and has been with Filoli since 2018. She is an incoming junior at California College of the Arts for her BA in the History of Art and Visual Culture.