Filoli Historic House and Garden Comes Alive in Winter to Celebrate Lunar New Year and the Spirit of Orchids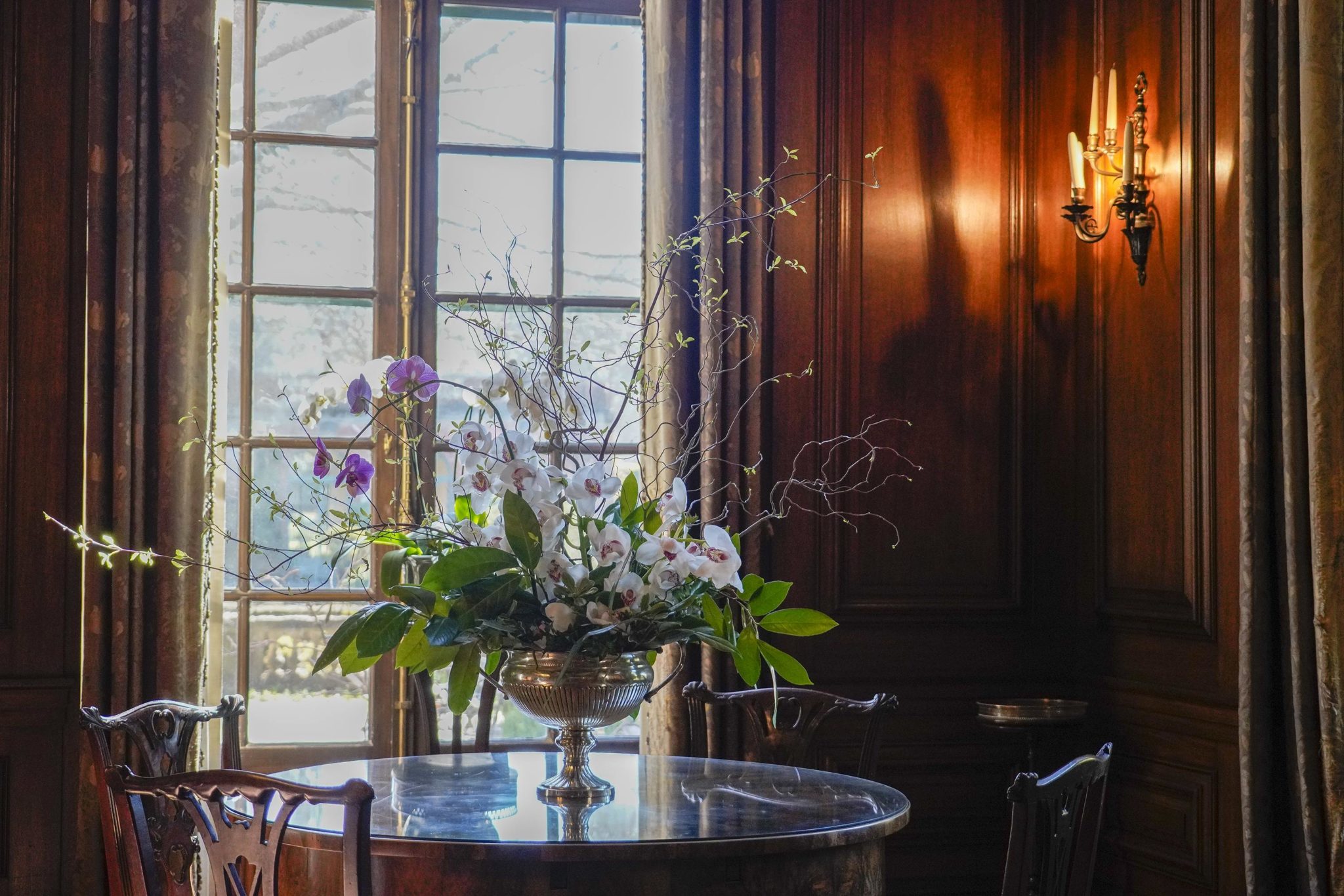 Orchid Show Returns with Ever-Popular Orchid Doctor, Mushroom Hikes, and Greenhouse and Architecture Tours; New Daily Garden and Room Talks Added
WOODSIDE, Calif., January 2, 2020 — Filoli Historic House and Garden, a site of the National Trust for Historic Preservation and one of the last country estates reminiscent of the Gilded Age, today announced its schedule of events for the winter 2020 season, running from Saturday, January 4 through Sunday, March 1. In addition to the live performances in the Ballroom Cultural Series, the highlights of Filoli this season are the Lunar New Year celebration and orchid show. Nearly 50 orchid blooms will take over the visitor center, house, and greenhouse. Orchid doctor Paul Bourbin will be available to diagnose ailing orchids and demonstrate proper orchid care, while artist Ming Lee will capture The Spirit of Orchids through an exhibition of Chinese brush paintings in the visitor center.
"While our camellia collection—with over 275 shrubs of over 100 varieties—is the key player in Filoli's winter garden, orchids take the spotlight indoors in lush floral displays and living arrangements everywhere you look," said Jim Salyards, Head of Horticulture at Filoli. "We've enlisted the participation of respected orchid societies and artists from around the Bay Area to give guests a truly immersive, almost spiritual experience. You won't want to miss the archway of orchids in our front foyer, where you can take a photo surrounded by stunning orchid blooms."
New in 2020, garden and room talks will be offered daily at Filoli, now open every day of the week. Filoli will also offer a new, monthly series of adult classes that offer curated access to interior and exterior spaces as well as Filoli experts. A new family program offers elementary-aged children the opportunity to craft an orchid-themed Valentine card inspired by the orchid displays in the house. Crafting, along with calligraphy, will also be part of the Lunar New Year celebration. Back by popular demand, specialty tours will immerse guests in the worlds of Georgian-style architecture, greenhouse nurseries, and mushrooms.
"Our 2020 winter season comes with offerings for the whole family," said Kara Newport, CEO of Filoli. "Music, cultural events, art, tours, the celebration of the Lunar New Year, and, of course, orchids make this a perfect time to enjoy a visit to Filoli with family and friends. Orchids are flowers long associated in China with luck and abundance, and we can think of no better way to kick off a new year than being surrounded by lots and lots of them."
2020 Winter at Filoli Schedule of Events
Unless otherwise stated, these events are free with purchase of Filoli admission. Filoli is open Monday through Sunday, 10:00am to 5:00pm.
The Spirit of Orchids: Orchid Show and Art Exhibit
Daily, January 4 – February 24, 2020
Throughout the winter season, orchids of unique species and cultivars will fill the interior spaces of the estate. In addition to plants from Filoli's collection, the show features orchids from local organizations including the San Francisco Orchid Society, Santa Clara Valley Orchid Society, Gold Coast Cymbidium Growers, and Pacific Central Branch of the American Orchid Society. To complement the horticultural displays and arrangements, artist Ming Lee will capture The Spirit of Orchids through an exhibition of Chinese brush paintings in the visitor center gallery.
Mushroom Hikes
Saturdays, January 4 – February 22, 2020 (11:00am – 12:30pm) Mushroom hikes are for visitors new to the world of mushrooms and enthusiasts interested in discovering what fungi are fruiting on Filoli's nature preserve. Hikers will learn about the important ecosystems of fungi and how to spot mushrooms on the forest floor. ($15 plus the cost of Filoli admission)
Greenhouse Tours
Fridays and Sundays, January 5 – February 23, 2020 (11:00am – 12:30pm) Visitors will tour Filoli's historic greenhouses and learn the history of the greenhouses and nursery, their historic and present uses, and view the incredible plant collections. ($15 plus the cost of Filoli admission)
Architecture Tours
Fridays, January 10 – February 21, 2020 (2:00 – 3:30pm) Visitors will explore the design of the historic house as originally conceived by architect Willis Polk and learn what makes Filoli a unique example of the modified Georgian style. These tours afford access to rooms in the house that are closed to the public, including portions of the upper floors. ($15 plus the cost of Filoli admission)
The Orchid Doctor Is In
Saturdays, January 11 and February 8, 2020 (2:00pm – 4:00pm) Orchid doctor Paul Bourbin returns to diagnose ailing orchids and demonstrate proper orchid care. With 30 years of experience growing and rescuing orchids, Paul will offer repotting demonstrations and plant identification. Visitors may bring their own plants or photos.
Lunar New Year Celebration
Saturday, January 25, 2020 (11:00am – 3:00pm)
Filoli and Sound of Hope Radio will host this celebration to ring in the Year of the Rat, a zodiac animal seen as a sign of wealth and surplus in Chinese culture. In addition to the
beautiful displays of orchids, visitors will enjoy traditional New Year crafts and a calligraphy demonstration.
Family Orchid Tour and Valentine Craft
Saturday, February 8, 2020 (10:30am – 12:00pm or 2:00pm – 3:30pm) Visitors will tour the colorful orchid display in the house, then create a three dimensional, orchid-themed Valentine card. This activity is designed for elementary aged children who must be accompanied by a registered adult. ($15 per person, Filoli admission not included)
Daily Room and Garden Talks
These 15-minute talks highlight what's blooming in Filoli's historic garden and offer in depth information about the collections in the house and the people who lived in and cared for Filoli. The year's first set of talks include twice-daily talks on the camellia collection in the garden and the Asian art collection in the house, as well as a special, Friday-only talk about the orchids on display in the kitchen. Check the daily schedule posted in the visitor center as topics, times, and locations will change.
Inside Look: New Adult Class Series
In addition to the many art, horticulture, and floral design classes, Filoli will now offer a new monthly opportunity to learn from Filoli's head curator and collection manager, head of horticulture, or nature education supervisor. Each class includes a 90-minute, behind-the-scenes tour or hike followed by lunch. Students will be Discovering the Botanical Secrets of Winter on Tuesday, January 21 and learning about Caring for the Collection on Tuesday, February 18. To register for adult classes, visit www.filoli.org/classes. ($60 per person; Filoli members receive a 20% discount off of the fee for every class.)
For more information about these and other winter events at Filoli or to purchase tickets, click the links above or visit: www.filoli.org/events/winter.
About Filoli
Located south of San Francisco in Woodside, California, Filoli boasts 654 acres of beauty nestled along the slopes of California's coastal range. Originally built as a private residence in 1917, Filoli was open to the public in 1976 as a 501(c)(3) nonprofit organization and site of the National Trust for Historic Preservation. The property is considered one of the finest remaining country estates of the 20th century, featuring a 54,000+ square-foot Georgian revival-style mansion, 16 acres of exquisite English Renaissance gardens, a 6.8-acre Gentleman's Orchard, and a nature preserve with over seven miles of hiking trails. Filoli is dedicated to connecting our rich history with a vibrant future through beauty, nature, and shared stories, so that one day all people will honor nature, value unique experiences, and appreciate beauty in everyday life. For more information about Filoli, visit www.filoli.org.
Contact:
Filoli Historic House & Garden
86 Cañada Road
Woodside, CA 94062
(650) 364-8300
press(at)filoli.org