Mystery Solved: The Female Artist Behind Filoli's Terrazzo Garden Tables
Cover photo by Mike James
Have you ever relaxed by the Garden House at one of the café tables overlooking the Sunken Garden? You may not have noticed the intricate terrazzo tile decoration – but author Wendy Van Wyck Good definitely did! She's an expert on the Bruton sisters, who were Bay Area modernist artists active from the 1920s-1950s, and she had a hunch that Filoli's tables were telling a hidden story.
Wendy Van Wyck Good:
Margaret Bruton (1894-1983) and her younger sisters Esther and Helen were bold experimenters who excelled in a variety of artistic mediums, including terrazzo mosaics made with highly polished granite or marble pieces. Originally from Alameda, they eventually settled in Monterey. These independent women became famous during the 1920s and '30s, earning lucrative large-scale commissions along with the respect and admiration of their peers. Unfortunately, the sisters gradually faded from the art scene, and their impressive careers were nearly forgotten.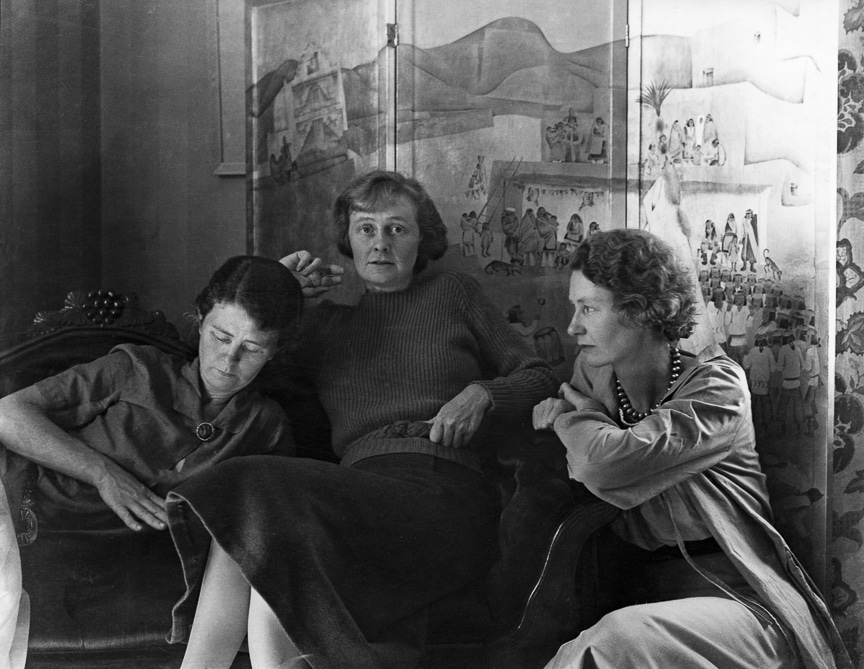 Back in June 2021, I was contacted by Vince Bravo, a Mid-century modern dealer and collector, who had recently visited Filoli. Bravo saw three café tables near the Garden House that caught his attention. The terrazzo table tops are in shades of green, gray, pink, and black, and they feature ocean motifs with fish, shells, and seaweed. I looked at his photos and noted many of Margaret Bruton's signature techniques and styles, such as interesting textures and abstract shapes formed by metal wire.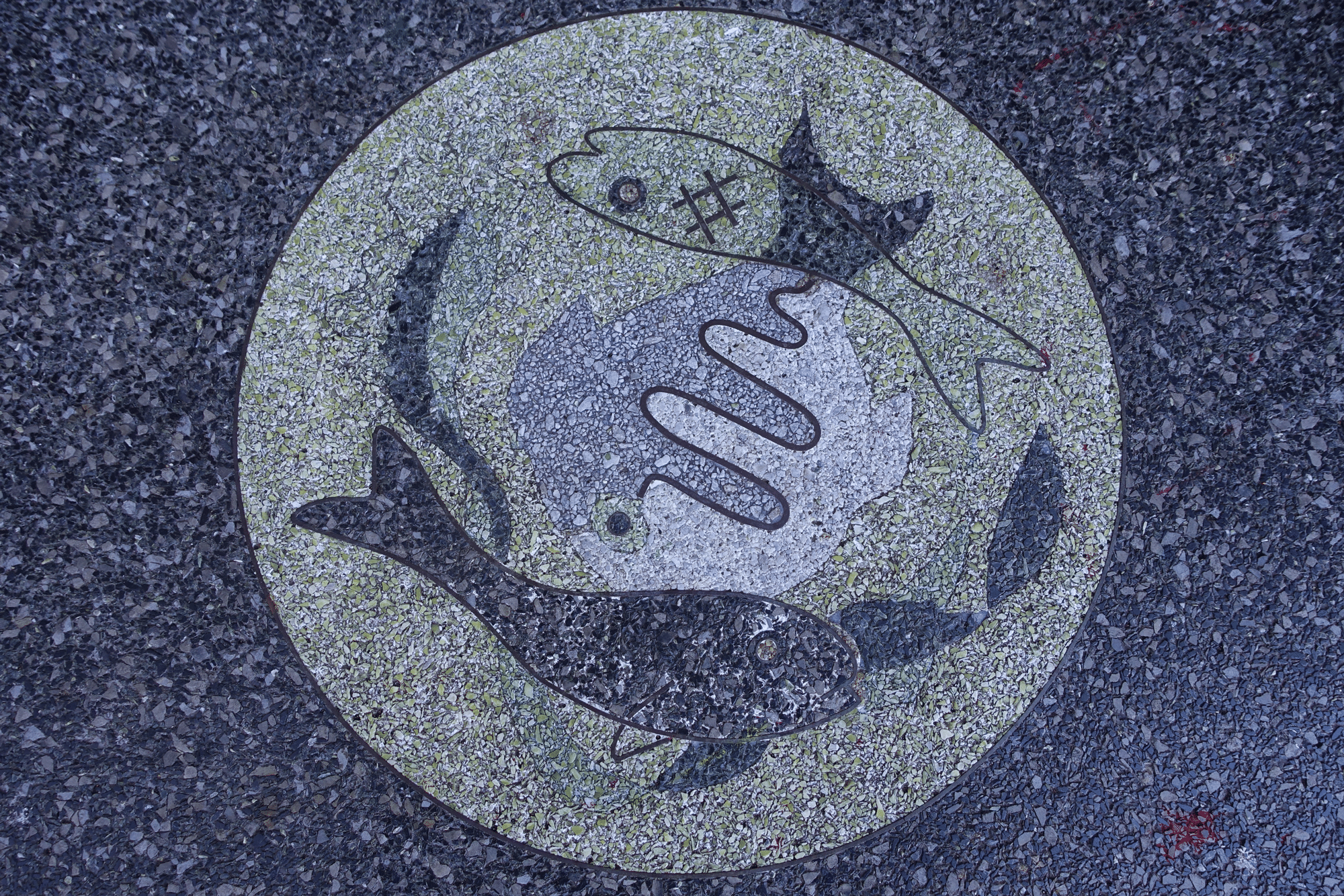 I already knew that the Brutons had an interesting connection to Filoli. The second owner of Filoli, Lurline Matson Roth, was the daughter of the founder of the Matson Navigation Company. Between 1946 and 1956, all three Brutons were hired to create furniture and murals for Matson-owned hotels like the Princess Kaiulani and the Royal Hawaiian in Honolulu, as well as the Lurline, Monterey, and Mariposa cruise ships.
One specific project stood out as a possible clue. In 1946, Margaret Bruton created 47 terrazzo table tops for a lounge at the Royal Hawaiian Hotel. The tables were commissioned by the renowned Monterey interior designer Frances Elkins, who had been hired to refresh and redecorate the hotel, which had been used for military housing during World War II. At some point, those original tables disappeared from the hotel, and it's unclear what happened to them.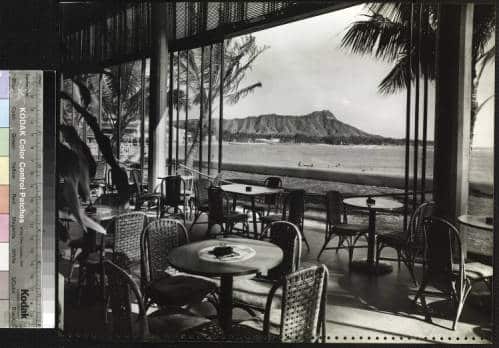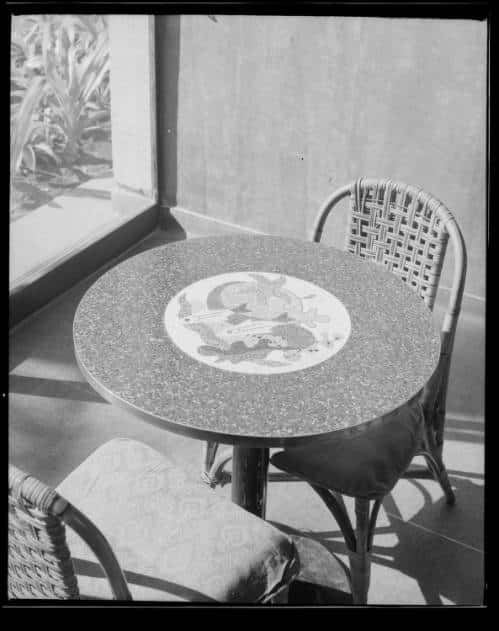 Maynard L. Parker, photographer. Courtesy of The Huntington Library, San Marino, California.
I decided to come to Filoli to see whether these tables could be a match – even crawling underneath them to take some photographs. Although the signatures are partially covered by the metal support bars, I could make out what appears to say "M. Bruton 1946" scratched into the concrete on the bottom of each table!
Period photographs reveal that the café tables at Filoli are nearly exact copies of the tables that were made for the Royal Hawaiian. Filoli's tables could be prototypes or samples that the Roth family acquired, or perhaps they are three of the original 47 tables. Could they have made their way from Hawaii back to California on a Matson ship?
It's always exciting to discover new works by these talented women artists! Fortunately, the Bruton sisters are now making an impressive comeback. An exhibition of their artwork – the first in more than 50 years – is on display at the Langson Institute and Museum of California Art at UC Irvine through May 6 and will travel to the Monterey Museum of Art from May 25–August 20, 2023. To learn more about the Bruton sisters, check out my blog or take a look at my biography of the Brutons, Sisters in Art.