Live storytelling, floral arranging workshops, and wonderful winter experiences are back at this historic Bay Area estate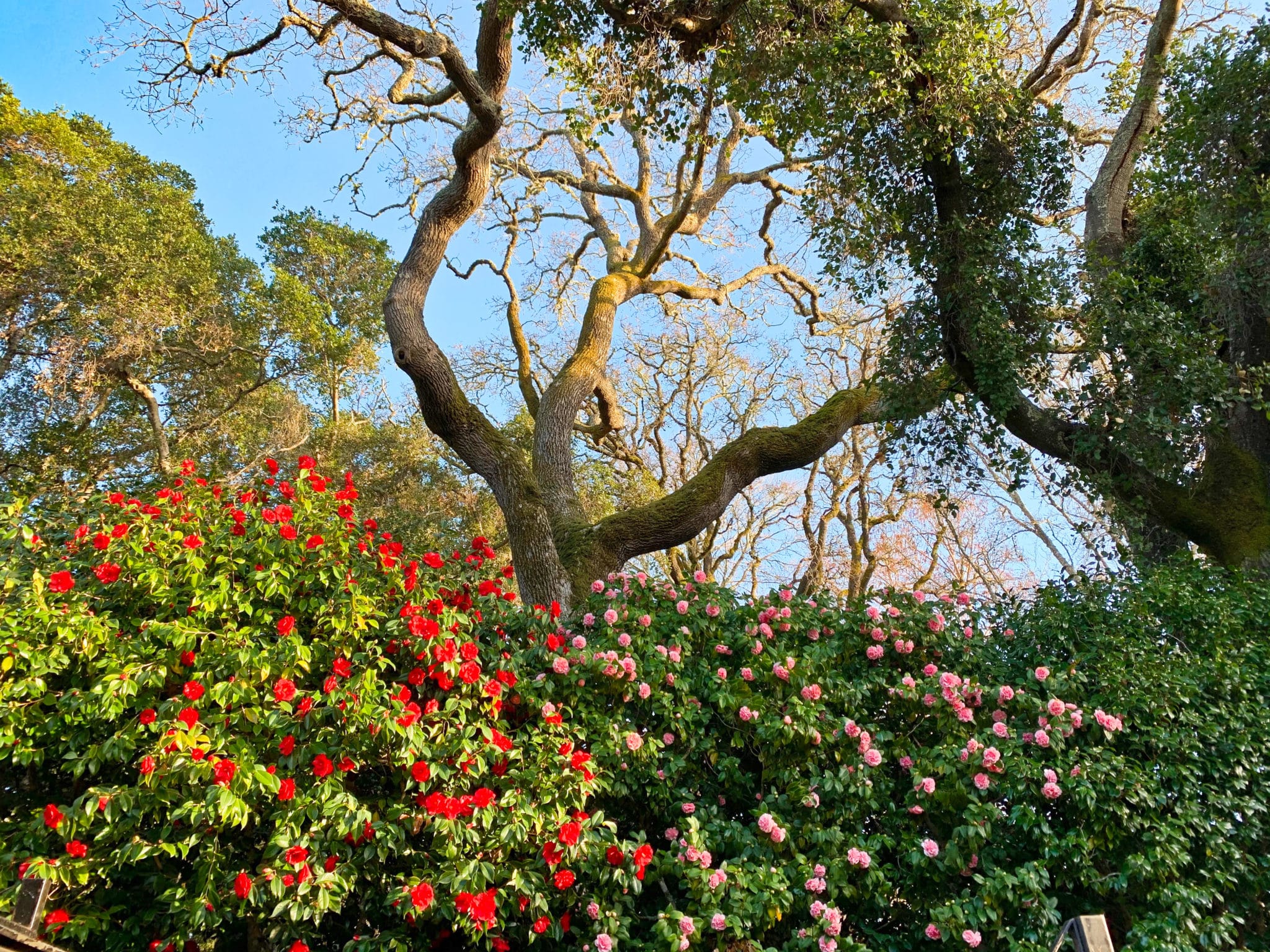 FOR IMMEDIATE RELEASE
Woodside, CA, January 18, 2022– For those in need of a little winter sunshine, Filoli is announcing what to see and do as a respite from the raindrops –or a rainy day romp– this winter! Filoli is a nationally recognized Bay Area historic landmark with 16 acres of formal gardens, a 54,000 square foot Georgian Revival style mansion, over 600 acres of protected Peninsula watershed, and visitor amenities like onsite dining and shopping.
Live storytelling is back in 2023 for Stories in Bloom, where women storytellers present poetry, music, and the art of flower arranging in Filoli's historic ballroom, free with Filoli admission. Upcoming events include the celebrated 11-year-old vocalist Alliana Lili Yang who will perform classical opera and Golden-Age musical theater hits, and a live floral arranging demonstration by Filipinx-owned and family-run floral boutique Diosa Blooms.
To no surprise, fabulous florals will be a recurring theme in Filoli's programming. Filoli is bringing back their Flora Parties for winter on Feb 9 and 10– just in time for Valentine's Day! Guests will combine a mix of fresh florals and greenery to create their own floral showstopper. On trend, Filoli's historic House will be filled with beautiful flowers for the Orchid Display, running from Jan 13 – Feb 13. Species will be on display from Filoli's collection, local orchid societies, and a stunning tropical floral takeover by Diosa Blooms in the Dining Room. Plus Filoli is bringing back the super popular Orchid Sale on Jan 28 and 29 in partnership with The Santa Clara Valley Orchid Society! All year, Filoli will highlight how they are Bringing the Garden Indoors– visitors can learn about the floral style of the historic residents, view gorgeous contemporary arrangements, and join with interactive activities.
 
"Winter is spectacular at Filoli," says Jim Salyards, Filoli's Director of Horticulture. "This is California's green season, and with all our winter rain the garden and the greater natural lands become colorful, lush and verdant." Salyards adds that fan-favorite winter flowers are the hundreds of camellias that bloom at Filoli each year, early-blooming magnolias, and the millions (yes, millions!) of daffodils that have naturalized in Filoli's daffodil meadow and around the estate.
After Filoli's guests get inspired by the brilliant blooms, they can peruse the nursery at the Clock Tower Shop Courtyard to start their own winter flowering garden at home. More gifts highlighting fresh starts, abundance, and flora can be found inside the Clock Tower Shop. Filoli favorites will be available including their beloved fruit butters and honey, crafted locally with produce from Filoli's garden. In the Visitor Center, Epicurean Group is operating a pop-up Quail Café for hot drinks, sweet treats, and savories.
"Filoli is the perfect experience for everyone who needs a little winter cheer post-holiday-season," says Dani Hielscher, Filoli's Marketing Manager. "There is something for everyone. Kids love to run, play, and look for newts and banana slugs; friends can stop for lunch at the Quail Café or grab a drink from the Bluebird Bar on weekends; and of course there is no better place to bring your Valentine for a stroll through the Garden bursting with camellias and daffodils." Hielscher says that there are so many ways to get involved with Filoli and experience something new this season. "We hope everyone will come and enjoy the privilege of a California winter in the Bay Area's most beautiful setting!"
 
Admission & Hours
Filoli is open every day from 10am-5pm including access to the House, Garden, Estate Trail, Clock Tower Shop, and Quail Café. Buying tickets online is recommended and sell-outs are expected during peak seasons and special events.
 
About Filoli
Filoli is a vibrant landscape of the Bay Area, situated on the unceded ancestral homeland of the Lamchin, an independent tribe of the Ramaytush Ohlone peoples, in Woodside, California. The estate boasts 654 acres of beauty nestled along the slopes of California's coastal range. Originally built as a private residence in 1917, Filoli was opened to the public in 1975 as a 501(c)(3) nonprofit organization and site of the National Trust for Historic Preservation. The property is considered one of the finest remaining country estates of the 20th century, featuring a 54,000+ square-foot Georgian revival-style mansion, 16 acres of exquisite English Renaissance gardens, a 6.8-acre Gentleman's Orchard, and hundreds of acres of Natural Lands with 5 distinct ecosystems and a 1-mile Estate Trail. Filoli is dedicated to connecting our rich history with a vibrant future through beauty, nature and shared stories, so that one day all people will honor nature, value unique experiences, and appreciate beauty in everyday life. For more information about Filoli, visit filoli.org.
Contact:
Dani Hielscher, Marketing Manager
86 Cañada Road
Woodside, CA 94062
(650) 364-8300 ext. 235
press@filoli.org