ICYMI: Bay Area Artist Barnali Ghosh Shares Self-Portraits Inspired By California Native Wildflowers
Barnali Ghosh is a Berkeley-based designer, artist, community historian, and landscape architect. For California Native Plant Week, Barnali shared the story behind her Unfaithful Re/creations (Floral Edition) project, which features self-portraits that honor California native wildflowers using sari fabrics and Odissi dance from India. Below, she shares four portraits and stories that were featured on Filoli's social media.
Barnali will be sharing her project for Stories in Bloom on Sunday, May 21, in the historic Ballroom. Learn more and reserve your tickets at filoli.org/stories-in-bloom.
---
"Happy Poppy"
Two years ago, I created this ode to the California poppy, our gorgeous state flower. It was also the start of my California Native plants edition of my Unfaithful Recreations project where I re-create native flowers using South Asian fabrics like sarees with poses inspired by the Indian dance form of Odissi. This week I'll be posting self portraits from this series of flowers that you can see at Filoli. I hope it will inspire you, bring you joy, and help you identify these flowers when you see them at Filoli or in the wild.
The California poppy (Eschscholzia californica) is one of my favorite native flowers—very few can resist its bright orange petals fluttering in the wind. But don't be fooled by its delicate appearance—its deep and vast root structure allows it to survive inhospitable conditions. As an immigrant this is something I think about a lot.
California is blessed with an incredible number of native species—the most of any state in the US. A third of these are found only in California. If you're curious about native plants and their importance to our ecosystem, look up California Native Plant Society, which helps preserve California's ecosystems, and the plants and places that make this home.
"Wild Iris"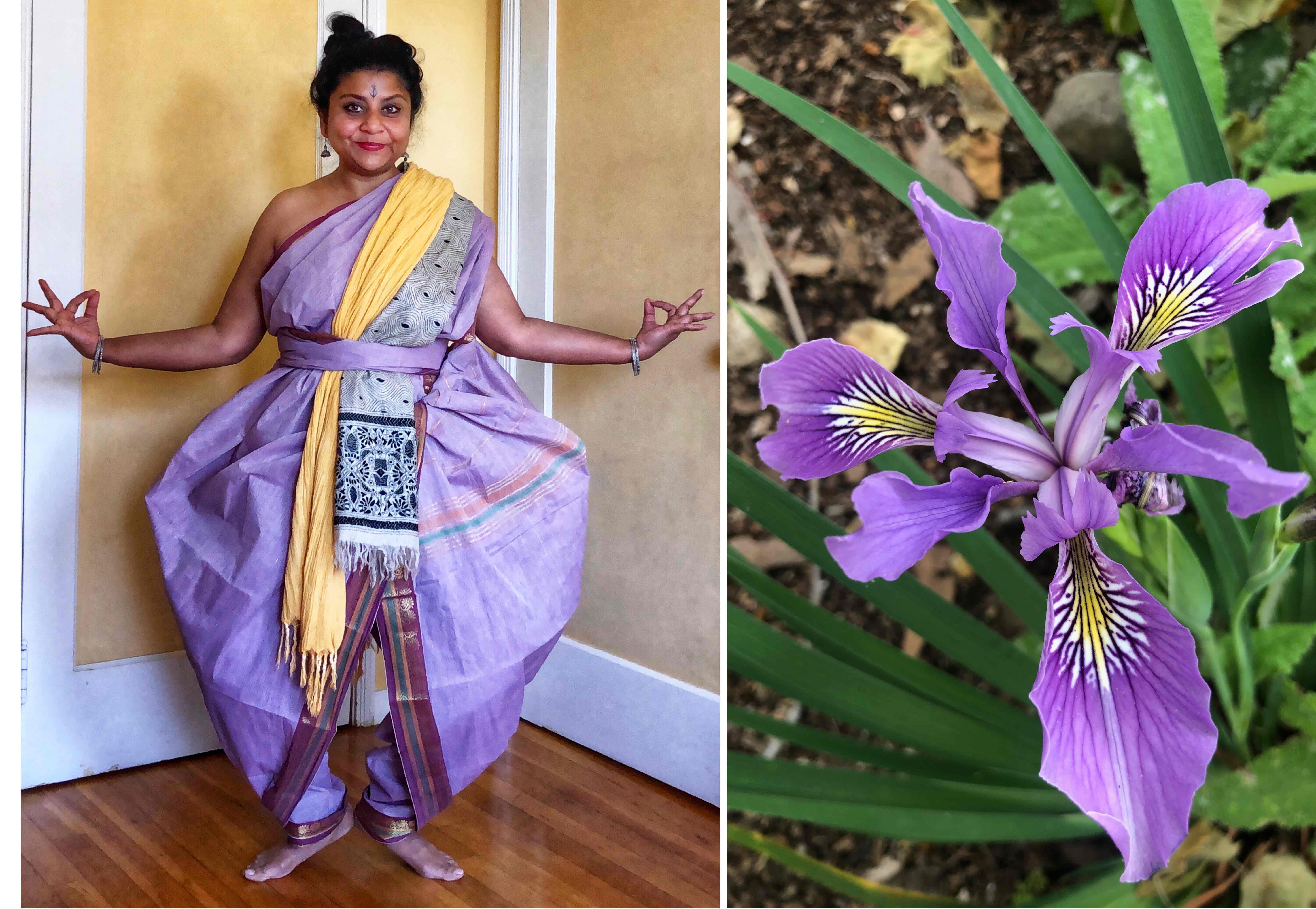 I loved recreating the complex pattern of Iris douglasiana — purple with a touch of gold.
Most of my recreations involve me draping sarees and layering other fabrics. Sarees are one piece of fabric, usually 18-20 feet long, made of silk, cotton and other materials. They can be worn in multiple ways, and by people with various body types, which makes them tremendously versatile. The cloth was traditionally woven by hand but these days most of them are made using powerlooms. Weaver communities and the art of handloom in South Asia have survived in spite of the lack of institutional support and their existence continues to be endangered.
Most of these sarees are gifts from women in my family, and a few are ones I bought myself. To me, draping the saree to create forms and then being able to put them away is like the blooming of many flowers, including our native wildflowers, that grace us with their presence for only a moment in time.
This saree is a cotton from India, and the black and white patterned fabric is a raw silk with kantha embroidery from Bengal.
"Earth to heaven"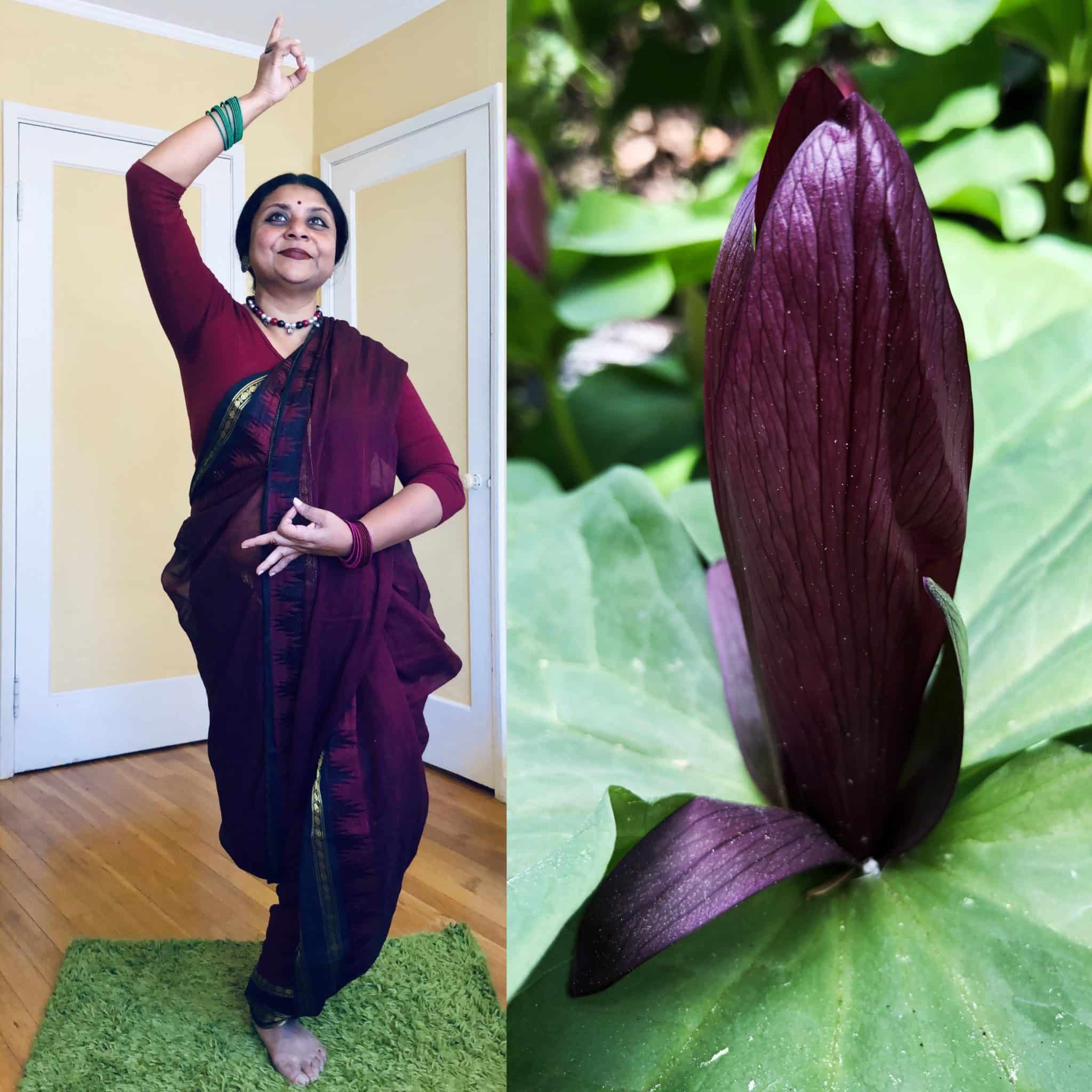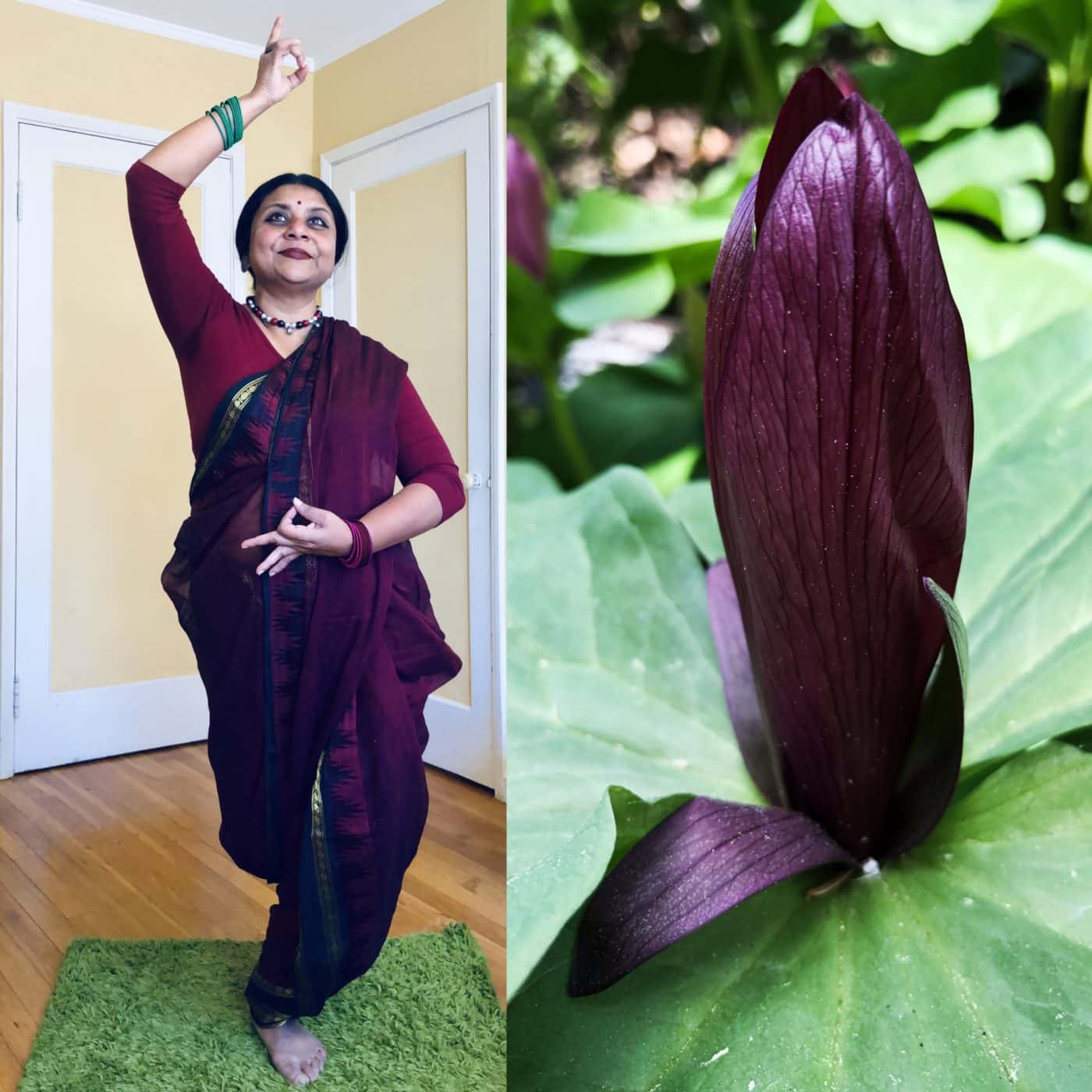 We all bring our own meaning to flowers, and for some, the giant wakerobin (Trillium chloropetalum) can symbolize spiritual embodiment and a sense of consciousness.
The poses I use to depict these flowers are inspired by Odissi dance. This pose is influenced by abinaya, or the showing of an expression of an emotion and often symbolizes a connection to the divine. The suchi (needle) mudra connecting with the hamsasya (swan's face) mudra is understood to be making a line from the earthly soul to the heavens.
I'm a student of Odissi, an Indian dance form from the state of Orissa, based on the poses of sculptures seen on local temples. This is a relatively sensual Indian dance form, and it might be for that reason that I find it especially appropriate to use in the embodiment of spring flowers which uses forms, colors, and patterns to attract pollinators.
The border of this simple cotton sari has a temple border that to me evokes trillium.
"Drumming fairies"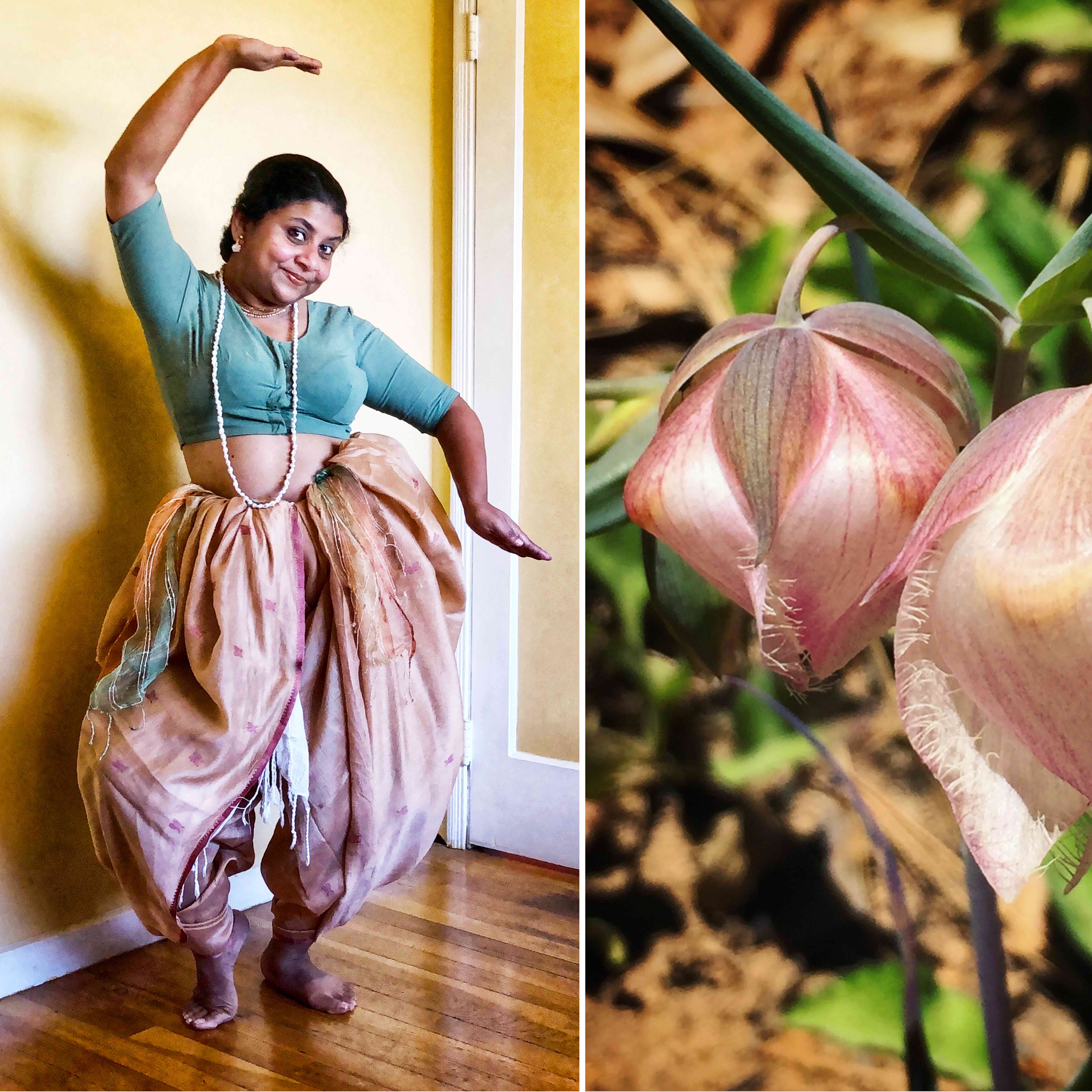 The white globe lily (Calochortus albus) presents a still look, but I think these fairy lanterns dance and drum when we are not looking.
One of the joys of doing this project was connecting with folks like Amy Patten, a photographer and biologist. Check out her wondrous instagram here.
The saree is the first one I ever bought for myself when I thought I liked subtle colors. It will always be special, but the color is not something I reach for often.
The "dancing drummer" pose is inspired by Odissi dance.
This Calochortus albus photo was taken by Amy in the Ventana Wilderness in 2017.