Holidays at Filoli Unveils a Dazzling Landscape of the Bay Area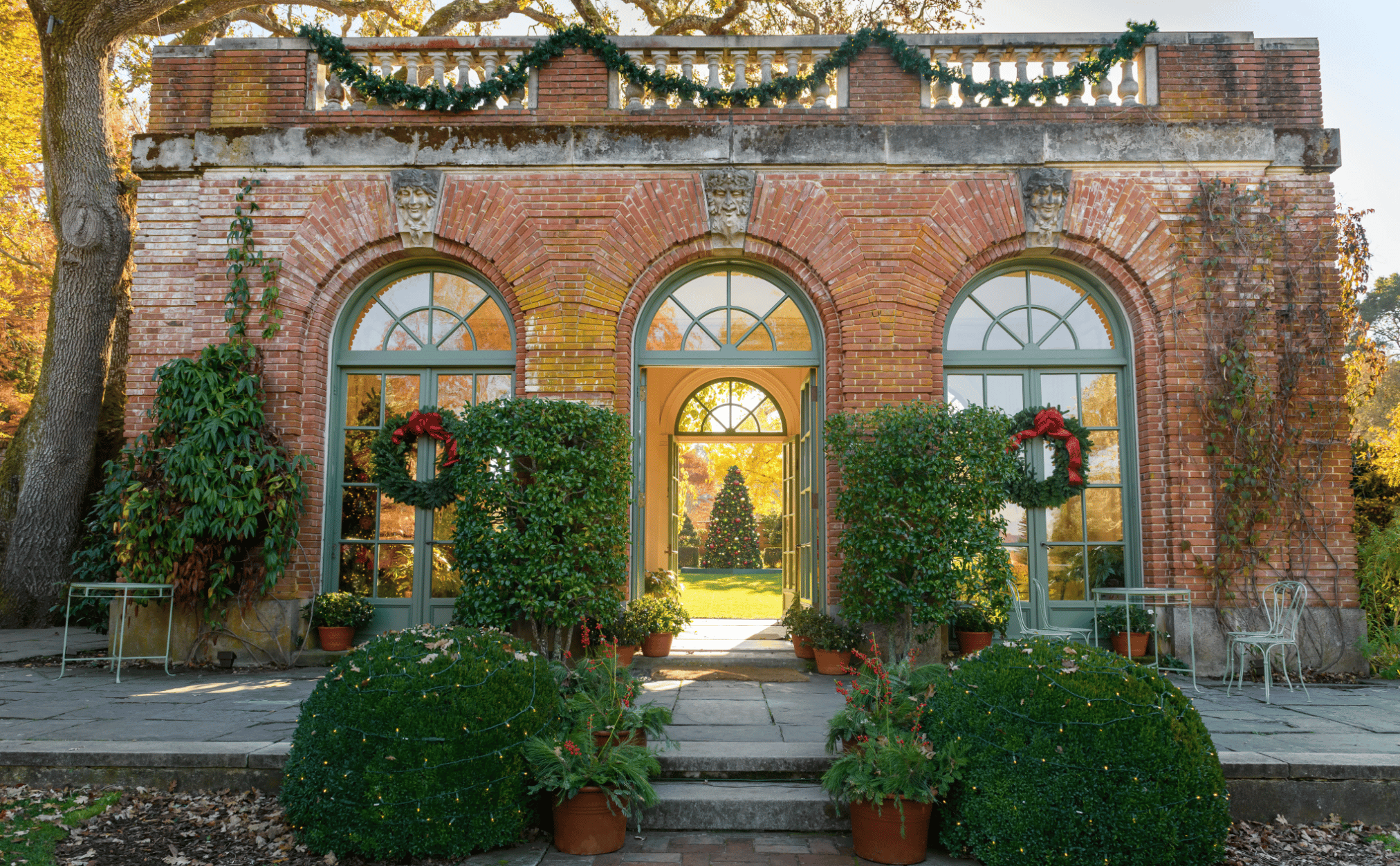 FOR IMMEDIATE RELEASE
WOODSIDE, Calif., November 16, 2021– Filoli is an expansive landscape situated on the unceded ancestral lands of the Ramaytush Ohlone. Today, this country estate and living example of regional agriculture history announces its full program of Holiday programming for the 2021 season. Holidays at Filoli is sure to delight, dripping with festive finery and sparkling with garden lights every day and night. From November 20, 2021- January 2, 2022 Filoli's historic House and Garden shines with glittering lights and decor, festive experiences, and holiday merriment for all.
In the Garden during Holidays at Filoli, visitors can find dazzling light displays including a river of lights, a Yew tree rainbow, and other vibrant installations that are sure to inspire. Lights are on during daytime and evening admission. In the daylight visitors can experience the Garden at peak fall color illuminated by twinkling lights and the winter sun. As the sun sets cozy fire pits and holiday libations beckon on the Woodland Garden Court.
In the House, new sounds and scents will accompany festive décor to bring Holidays at Filoli to life; more than 20 decorated trees will be on display. Experience the grand Bourn-era Dining Room complete with piano music and lively discussion, and reminisce in the Roth-era Family Room as classic christmas hits and vintage commercials play on the 1960's Zenith television.
We know that the 2021 Holiday season calls especially for gathering with loved ones, and Holidays at Filoli is the perfect getaway for any group of friends, family, colleagues, or classmates. Santa Weekends are back on select Saturdays and Sundays for the youngsters in your group– and those young at heart– to take a selfie with Santa. Special Themed Nights on Mondays invite friends of all ages to get in the spirit of the season with themes like Vintage Christmas and Holiday Pajama Party! Don't miss the opportunity for the perfect holiday date night with a stroll in the Garden aglow and an evening with mulled wine or hot whiskey cider on the Woodland Garden Court– open every day and night.
Holidays at Filoli Admission Pricing & Hours
Tickets are on sale now and sellouts are expected! Advanced tickets are required and can be purchased at filoli.org/holidays. Filoli will be open for the holiday season from November 20, 2021 through January 2, 2022, daily from 10:00am to 8:00pm. Both the House and Garden, as well as the Clock Tower Shop, and Quail's Nest Café will be open during all holiday hours. Filoli will be closed on Thanksgiving Day, Christmas Eve, and Christmas Day.
Daytime Admission (10am-4pm):
Adult: $28
Children (5-17): $15
Children under 5: Free
Evening Admission (4pm – 8pm):
Adult: $38
Children (5-17): $20
Children under 5: Free
*Filoli Members receive 20% off Holidays At Filoli admission
Planning a visit with the extended family, office team, or tour group? Groups of fifteen or more can bundle and save with the Holidays Group Admission Package.
About Filoli
Filoli is a vibrant landscape of the Bay Area, situated on the unceded ancestral lands of the Ramaytush Ohlone, in Woodside, California. The estate boasts 654 acres of beauty nestled along the slopes of California's coastal range. Originally built as a private residence in 1917, Filoli was opened to the public in 1977 as a 501(c)(3) nonprofit organization and site of the National Trust for Historic Preservation. The property is considered one of the finest remaining country estates of the 20th century, featuring a 54,000+ square-foot Georgian revival-style mansion, 16 acres of exquisite English Renaissance gardens, a 6.8-acre Gentleman's Orchard, and a nature preserve with eight miles of hiking trails. Filoli is dedicated to connecting our rich history with a vibrant future through beauty, nature and shared stories, so that one day all people will honor nature, value unique experiences, and appreciate beauty in everyday life. For more information about Filoli, visit filoli.org.
Contact:
Filoli Historic House & Garden
86 Cañada Road
Woodside, CA 94062
(650) 364-8300