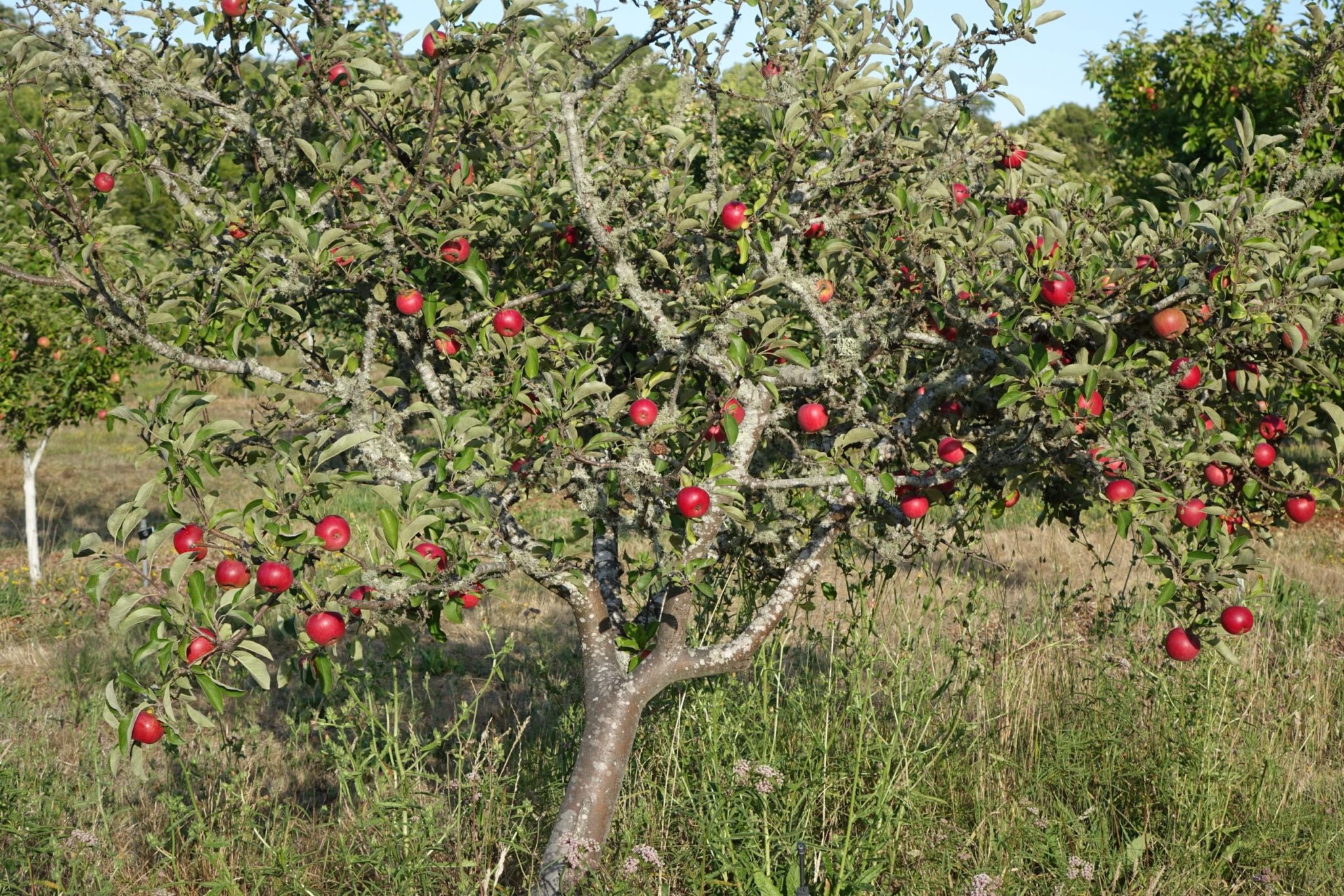 By Director of Horticulture Jim Salyards
When the fruit trees in the Garden start bearing ripe fruit in summer and fall, visitors often ask, "What does Filoli do with all its fruit?" Learn more below about the many ways we make use of the fruit from our orchards, including harvesting for fruit butters and apple cider, creating displays for autumn events, donating to Village Harvest, and more!
Plan a visit to Filoli Learn about Membership Bloom Watch
---
Fruit as Display
We find fruit hanging from the tree to be as beautiful as a rose on a rose shrub or flowers in our annual displays!
Fruit is a decorative component in the formal garden, and it allows guests to learn how fruit grows on trees. Each year, we leave a smattering of fruit on the trees at the end of the harvest to maintain the autumn display in the garden.
---
Naturally Fallen Fruit
A certain amount of fruit always naturally falls from the trees during the ripening period. Please leave the fruit on the ground: These are typically poor quality fruit that have been damaged by insects or nibbled by animals like birds, raccoons or rats. On the ground the fruit is exposed to an even bigger host of animals that may contaminate it, and thus should never be eaten by humans. These fruits are ultimately gathered and are either composted or are piled outside the garden for critters to eat. Either way, the fruit does not go to waste.
---
Orchard Days
Each year, Filoli holds Orchard Days, which pay homage to the history of fruit growing at the estate. We want give everyone a chance to see the Orchard at its harvest peak!
---
Fruit Storage
Fruits that are stored for events or other uses are placed in our historic, in-ground fruit cooler. When designed by architect Gardener Dailey for the Bourns, it was thought that it being in-ground would provide sufficient chilling.
However, in our climate, the cooler was too warm in the fall and winter, and the fruit did not store properly or for very long. In the 1980s, a refrigerated chiller was added to the cooler to properly keep the fruit fresh.
---
Filoli Fruit Butters
Beginning in 2015, Filoli engaged a commercial kitchen to turn our fruit into fruit butters and other preserves. Nearly 20 different types of butters have been made the five past years, including some made from a blend of fruits (Heirloom Apple Butter, Heirloom Pear Butter, Heirloom Peach Jam, Heirloom Grape Jelly), while others are single variety preserves (Bartlett Pear, Comice Pear, Gravenstein Apple, Jonathan Apple, Spitzenberg Apple, etc.). The annual harvest for our preserves is 1000-4000 pounds.
---
Filoli Hard Cider
Beginning in 2018, Filoli has worked with Tilted Shed Cider Works to produce hard cider from our orchards. We are out of the 2018 "vintage," and have begun offering our recently arrived 2019 vintage in the Clock Tower Shop.
In 2018, we delivered 2643 pounds of fruit, which yielded 80 cases of cider. In 2019, we delivered slightly less fruit, which yielded just under 70 cases.
---
Village Harvest Donations
For nearly 10 years, we have donated fruit to the nonprofit Village Harvest, which harvests or receives donations of fruit from orchards big or small, and donates the fruit to the needy, including Second Harvest of Silicon Valley and St. Anthony's Padua Dining Room in Menlo Park. Filoli picks and donates weekly from August through September. In early October, a large group of Village Harvest volunteers gleans the remaining fruit from our orchards. Typical annual donations are 2000-5000 pounds of fruit.
Next time you visit the Garden, be sure to look for the beautiful fruit hanging from the branches of trees in our orchards!