Filoli Historic House and Garden Plans Summer Season Full of Inspiration and Celebration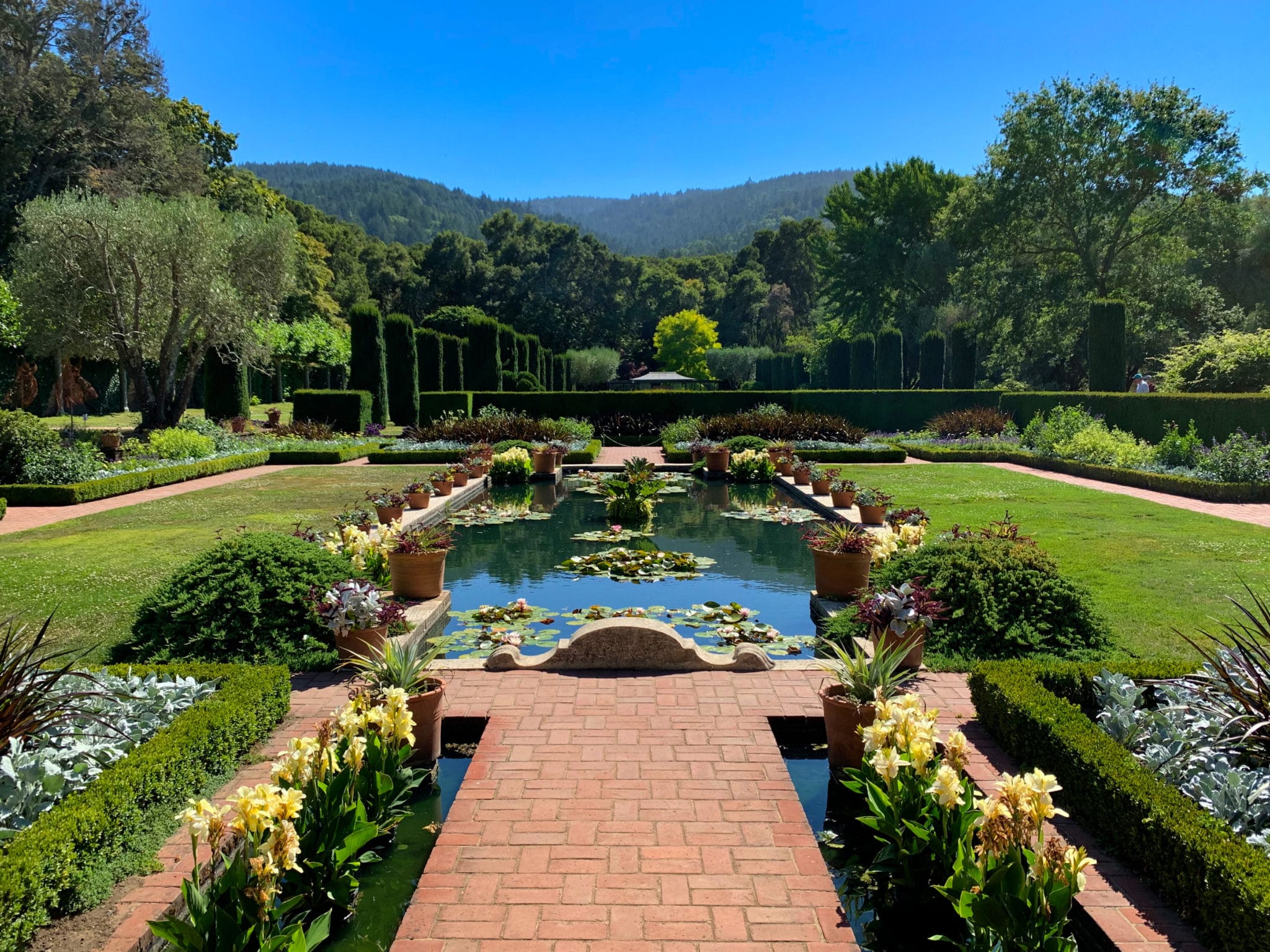 A Summer Oasis Awaits Visitors from May 27 to September 23, Exhibiting a Fruitful Garden, Decades of Entertainment, and Colorful Pride
WOODSIDE, Calif., May 19, 2021 — Filoli Historic House and Garden, a site of the National Trust for Historic Preservation and one of the last country estates reminiscent of the Gilded Age, today announced its programming for the 2021 summer season, which runs from May 27 to September 23 and enables visitors to experience Filoli as it was originally envisioned by the Bourn family: a place for entertainment and agricultural production on an impressive scale. Indoor and outdoor exhibitions highlight how these activities have evolved over the decades, recreating memorable gatherings in the various rooms throughout the House and incorporating new fruits, vegetables, and herbs into the formal Garden. Weekend festivities include celebrations of Pride, wine, and local artists, and evening admission is available every Thursday night.
"Filoli became a place of refuge during a difficult time, and, as we all emerge, Filoli will be a place of celebration," said Kara Newport, Chief Executive Officer at Filoli. "This summer, we have fun exhibitions that celebrate everything from pollinator plants and Pride to the end of Prohibition and the 40th anniversary of Dynasty. We will also unveil the restored Gentlemen's Lounge in the House and offer new stories about the founding of Filoli in the Visitor and Education Center. Filoli changes every day, and there is always something new and inspiring in the House and Garden or along the nature trails. We are making Filoli the place to be this summer!"
Summer Nights, Every Thursday
May 27–September 23 (5:00pm–8:00pm)
Every Thursday night throughout the summer, Filoli offers evening admission to enjoy the tranquil setting of twilight in the Garden. The historic House is open until 7:00pm, while the Garden is open until 8:00pm. Filoli's Quail's Nest Café is open until 7:30pm, offering a delectable menu of sandwiches, salads, soups, and sides. The Grove Bar offers canned beer, wine, and other refreshments until 7:30pm.
A special Dynasty theme night is set for Thursday, June 3 (ahead of Pride Weekend) to mark 40 years since the popular television series first aired. The infamous Carrington mansion was modeled after Filoli, and many scenes were actually filmed on site. Film stills feature prominently in each room of the House, and visitors are encouraged to dress in their most extravagant Dynasty lookalike outfit, in celebration of Filoli's role in a show that helped pioneer compelling narratives around gender inequality and featured prime time's first openly gay character and first Black female lead.
Summer Nights Pricing (5:00pm–8:00pm)
Filoli Members: Free
Non-members:

Adult: $25
Senior (65 years and up): $22
Student/Teacher/Military: $20
Child 5-17: $15
Child Under 5: Free
Indoor Exhibition: Decades of Entertainment
May 27–November 8
In the House, rooms come alive with music, sounds, and stories of different decades based on the time the Roth and Bourn families occupied the mansion and entertained guests. Visitors can imagine: listening to 1920s opera in the Ballroom, attending the Bourn's infamous 1930s post-prohibition Drunks Dinner, creating delicious meals out of rationed ingredients in the 1940s wartime kitchen, or watching a classic 1960s television show in the Study with Bill Roth while he mixes a cocktail. These and more immersive experiences throughout the House are included with Filoli admission.
Outdoor Exhibition: The Fruitful Garden
May 27–November 8
Filoli celebrates the gifts of edible, medicinal, and pollinator plants with a vibrant, ever-changing display of fruits, vegetables, and herbs in the formal Garden. Visitors can learn how Filoli's horticulturalists combine a 100-year tradition of food production with modern gardening techniques and artistic design to deliciously decorate a garden for both people and pollinators. In the Sunken Garden, passion fruit, eggplants, and beans dangle from trellises, while dramatic foliage of bull's blood beets and golden pineapple sage blanket the beds. In the Walled Garden, asters, sunflowers, poppies, and fennel supply nectar and pollen to bees, butterflies, beetles, and birds. This bountiful display will vary throughout the season and is included with Filoli admission. Filoli's Clock Tower Shop offers visitors Filoli-grown and approved vegetables, fruit trees, herbs, seeds, and tools for growing their own fruitful gardens.
Pride Weekend
Saturday, June 5–Sunday, June 6 (10:00am–5:00pm)
Filoli celebrates Pride with a two-day event uplifting the LGBTQ+ community. Visitors can take a Rainbow Walk to learn the meaning of the colors in the Pride flag, listen to a poignant soundscape of LGBTQ+ history on the Garden House Lawn, and enjoy colorful, Pride-inspired floral installations in the House. Filoli is proud to welcome all and be an inclusive space for visitors. Access is included with Filoli admission.
Art Walk
Saturday, July 24–Sunday, July 25 (10:00am–5:00pm)
Art Walk showcases hand-picked local artists selling their work throughout Filoli's spacious 16-acre Garden. Visitors can stroll the Garden while browsing original paintings, ceramics, jewelry, and more, take a break to pick up lunch or a cool beverage on the shady Woodland Court, and then resume their Art Walk. Access to the Art Walk is included with Filoli admission.
Wine Weekend
Saturday, August 14–Sunday, August 15 (10:00am–5:00pm)
Wine Weekend shines the spotlight on local wineries and breweries and gives Filoli visitors a rare opportunity to taste, purchase, and enjoy a selection of libations not typically offered on property. Tastings are included with the purchase of a signature Filoli stemless wine glass. Visitors may also purchase food in the Quail's Nest Café or on the Woodland Garden Court, or bring a picnic for picnicking in the designated area by the Visitor and Education Center. Access is included with Filoli admission.
Filoli General Admission Pricing (10:00am–5:00pm)
Filoli Members: Free
Non-members:

Adult: $25
Senior (65 years and up): $22
Student/Teacher/Military: $20
Child 5-17: $15
Child Under 5: Free
COVID-19 Precautions
Filoli is open daily with limited admission. All tickets, including member reservations, must be purchased online in advance. Please visit filoli.org/visit for ticket information and visiting guidelines. Visitors follow a one-way path through the expansive Garden, historic House, and Estate Trail and are expected to adhere to all local guidelines for social distancing. Filoli does not differentiate between vaccinated and unvaccinated individuals. All visitors are required to wear a mask while visiting.
About Filoli
Located south of San Francisco in Woodside, California, Filoli boasts 654 acres of beauty nestled along the slopes of California's coastal range. Originally built as a private residence in 1917, Filoli was opened to the public in 1977 as a 501(c)(3) nonprofit organization and site of the National Trust for Historic Preservation. The property is considered one of the finest remaining country estates of the 20th century, featuring a 54,000+ square-foot Georgian revival-style mansion, 16 acres of exquisite English Renaissance gardens, a 6.8-acre Gentleman's Orchard, and a nature preserve with eight miles of hiking trails. Filoli is dedicated to connecting our rich history with a vibrant future through beauty, nature and shared stories, so that one day all people will honor nature, value unique experiences, and appreciate beauty in everyday life. For more information about Filoli, visit filoli.org.
Contact:
Filoli Historic House & Garden
86 Cañada Road
Woodside, CA 94062
(650) 364-8300