Filoli Pride opens with a glam drag party at the iconic 'Dynasty' house followed by a weekend of family-friendly fun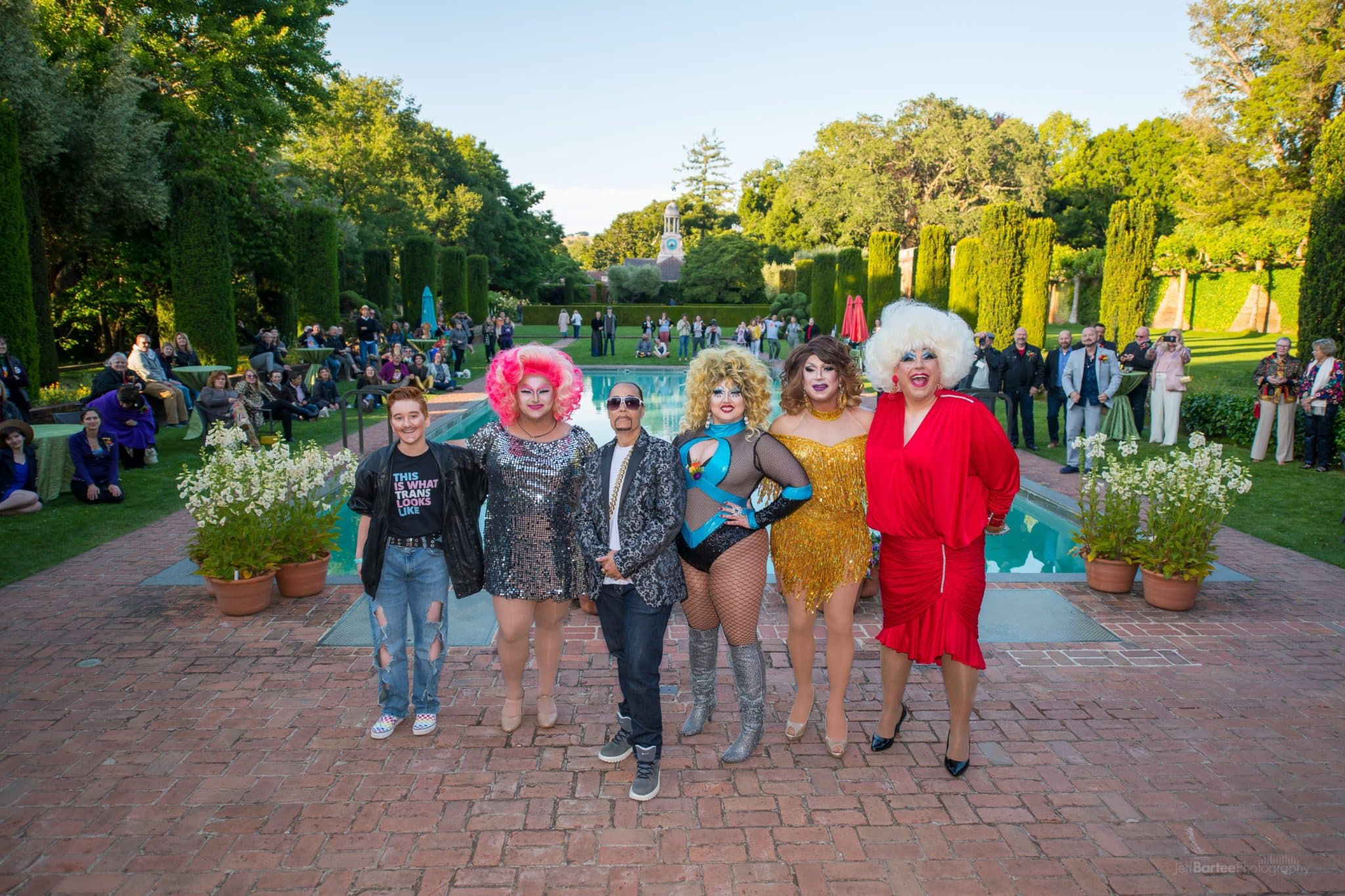 FOR IMMEDIATE RELEASE
Woodside, CA, May 3, 2022– Superfans pilgrimage from thousands of miles every year to visit the location of the hit 1980's TV show Dynasty an immaculate 1917 historic 56-room mansion also known as Filoli. This historic estate celebrates its Dynasty connection for Pride with an homage to the glitz, glam, catfights, and caviar in their opening night party followed by a weekend of Filoli Pride fun for all ages.
Dragtopia will kick off the weekend of festivities with a party on Friday night, June 2 from 5:30-8pm. Queens and Kings descend upon the Dynasty house for a night of glam. Performers sparkle in the Ballroom, a DJ dance party takes over the pool, and everyone will have a chance to try the fabulous gender-inclusive heels by Lidia Talavera. Specialty cocktails, mocktails, wine, beer, and light bites available for purchase.
Filoli Pride continues into the weekend, 10am-5pm, June 3 and 4. Live performances throughout the weekend include Drag Queen Storytime, Queer Taiko, the Gay Freedom Band, a sound bath by Banyan Tree Women's Collective, and colorful Mexican folk dancing by Folclorico Colibri.
On June 11, Filoli welcomes Ms. Tory Teasley, an up-and-coming Funk and Soul vocalist in the Bay Area who imbues pride in every performance. Teasley is the kickoff performance for Filoli's new concert series Summer Stage, where vibrant live performances take the stage against the backdrop of the historic House.
Through the rest of June, view artwork from the Queer Ancestors Project in the House, look for objects in the Pride scavenger hunt, and take a Rainbow hike along the hiking trail to learn about the symbolism of the colors in the LGBTQ+ flag. Included with Filoli admission all month!
Email press@filoli.org for more information, photos, and to plan a media visit during Filoli Pride.
 
Admission & Hours
Filoli is open every day from 10am-5pm including access to the House, Garden, Estate Trail, Clock Tower Shop, and Quail Café. Buying tickets online is recommended at filoli.org, and sell-outs are expected during peak seasons and special events. 
 
About Filoli
Filoli is a vibrant landscape of the Bay Area, situated on the unceded ancestral homeland of the Lamchin, an independent tribe of the Ramaytush Ohlone peoples, in Woodside, California. The estate boasts 654 acres of beauty nestled along the slopes of California's coastal range. Originally built as a private residence in 1917, Filoli was opened to the public in 1975 as a 501(c)(3) nonprofit organization and site of the National Trust for Historic Preservation. The property is considered one of the finest remaining country estates of the 20th century, featuring a 54,000+ square-foot Georgian revival-style mansion, 16 acres of exquisite English Renaissance gardens, a 6.8-acre Gentleman's Orchard, and hundreds of acres of Natural Lands with 5 distinct ecosystems and a 1-mile Estate Trail. Filoli is dedicated to connecting our rich history with a vibrant future through beauty, nature and shared stories, so that one day all people will honor nature, value unique experiences, and appreciate beauty in everyday life. For more information about Filoli, visit filoli.org.
Contact:
Dani Hielscher, Marketing Manager
86 Cañada Road
Woodside, CA 94062
(650) 364-8300 ext. 235
press@filoli.org