Filoli Historic House and Garden Appoints New President and Four New Members to Board of Directors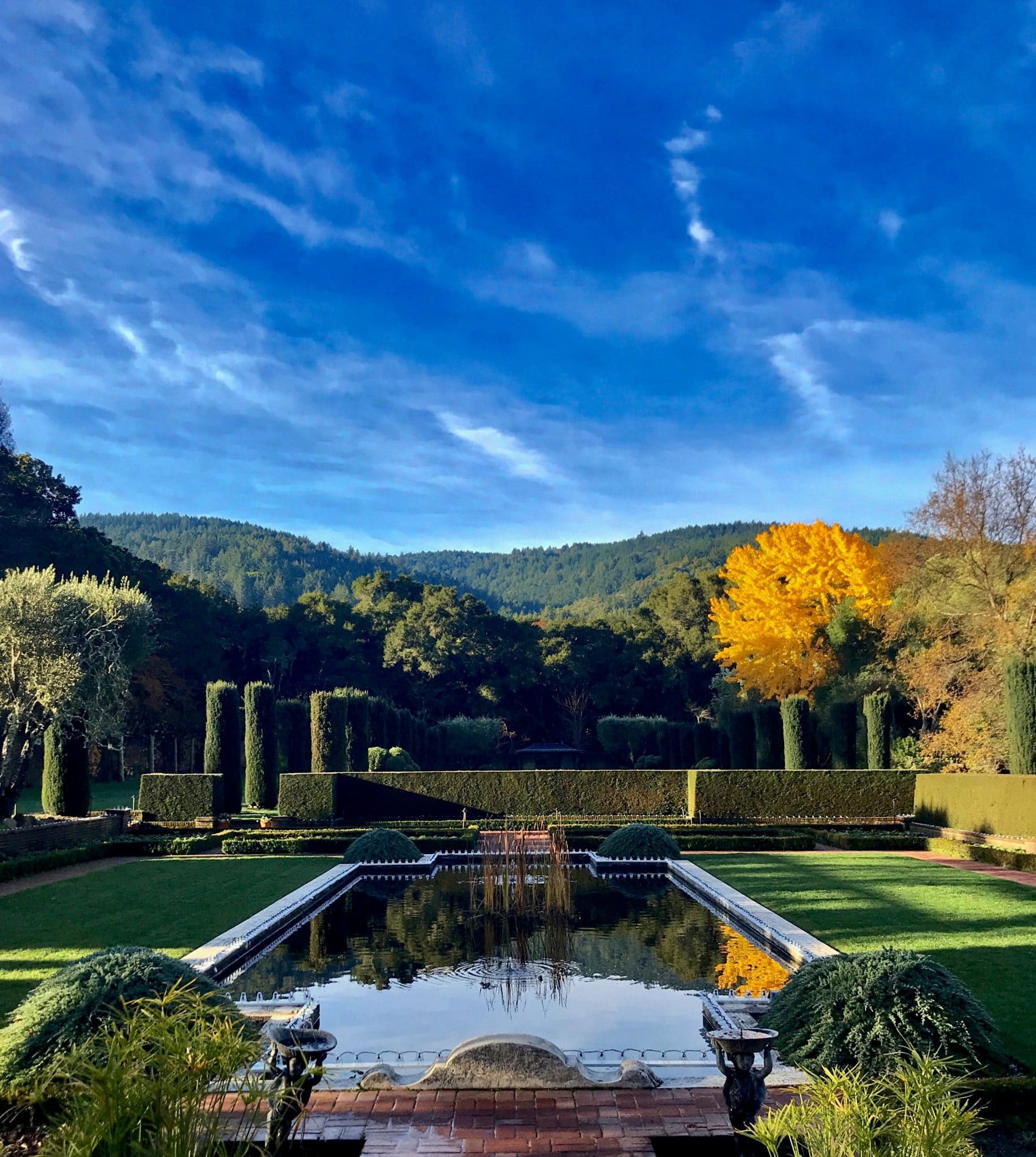 Seasoned Business and Community Leaders Bring Broad Range of Financial, Operational, and Community-Engagement Expertise to Nonprofit Team
WOODSIDE, Calif., February 13, 2020 — Filoli Historic House and Garden, a site of the National Trust for Historic Preservation and one of the last country estates reminiscent of the Gilded Age, today announced new appointments to its board of directors for 2020. Responsible for the governance and support of Filoli as a 501(c)(3) nonprofit organization, the board of directors is comprised of individuals from the local area that are committed to Filoli's mission of connecting our rich history with a vibrant future through beauty, nature, and shared stories. David Wollenberg, who served as vice president of the board last year, will serve as president this year. New members of the board this year are Jaleh Daie, Robert Nibbi, Michael Smith, and Alan Zafran.
"Filoli is an oasis of peace and beauty, which is ever more important as the Bay Area grows more crowded," said David Wollenberg. "I am honored to become president of Filoli's board of directors and to welcome Jaleh, Bob, Michael, and Alan as members of the board. I'm also pleased to announce that Filoli's board executive team for this year will be Carolyn Daley as past president, Carol Moran as vice president, Don DeFever as secretary, and Ron Peyton as treasurer."
David Wollenberg will take over the role of president from Carolyn Daley, who will continue to serve on the board in the role of past president. He has been a member of the Filoli Board of Directors since January
2012. A resident of Atherton, Wollenberg currently serves as a
director emeritus of Rebuilding Together Peninsula and a member of the Stanford Live Arts Council. He also serves on the board of
the Menlo Park Police Foundation and is managing trustee of The
Wollenberg Foundation.
Dr. Jaleh Daie is a multidimensional executive with wide-ranging experience in private and public sectors. As a Women in Tech Hall-of-Famer,
global speaker, investor, board director, advisor, and noted
academic biologist, she has served the administrations of three
presidents, worked in eight countries, and received numerous
awards and distinctions. Daie is currently a partner at Aurora
Equity and chair of AgFood Tech at Band of Angels. She has served on several boards including Asia Society Northern California, the Commonwealth Club, the World Food Programme Innovation Accelerator, and other nonprofit organizations.
"It was love at first sight," said Daie of the first time she visited Filoli. "I felt the vibrations at a molecular level—in my DNA."
Robert Nibbi is president of Nibbi Brothers General Contractors, a San Francisco based commercial construction firm founded by Nibbi's grandfather in 1950. Nibbi and his brother Michael represent the third
generation of company management whose notable projects include the Exploratorium at Pier 15 and the Cliff House restaurant. A
former board president of Rebuilding Together Peninsula and
Family House, Nibbi is currently a trustee on the Carpenters
Vacation Trust Fund. He and his wife Meg live in Woodside and have three children.
"My family and I have enjoyed the beauty of Filoli for many years, and I'm honored to be selected to join the board," said Nibbi. "I look forward to participating in some of the many exciting initiatives that are underway to make Filoli even better, now and into the future."
Michael Smith is the founder and CEO of E&I Advisors, a boutique management consulting firm focused on delivering operating and go-to-market
strategy for small and medium-sized technology companies that are struggling to meet their revenue goals. Smith currently serves as an advisor at digital health concierge SAMI-Aid and at VOCA, maker of a civic engagement platform; previous business experience includes roles at American Express, PwC, and Samsung. He also teaches
courses in entrepreneurship, business law, and strategy as an adjunct professor at Cañada College. Smith lives in Redwood City, where he also serves as a planning commissioner and co-chair of the Palm Park Neighborhood.
"Filoli is a refuge in the midst of the hustle and bustle of the Bay Area in the digital age," said Smith. "I'm focused on sharing this respite to all communities throughout the Bay Area, the nation, and the world."
Alan Zafran is founding partner and co-CEO of IEQ Capital who has served as a financial advisor to wealthy families and institutional investors for nearly three decades. He also sits on the Investment Committee at
IEQ Capital. Zafran was listed by Barron's as a Top 100
Independent Advisor in 2014 and 2016 and a Top 100 Financial
Advisor in 2018 and 2019. A resident of Atherton, Zafran currently serves on the boards of the Center for Mathematics and Teaching,
Craft Contemporary, the Shuchman Lesser Foundation, the Silicon Valley Community Foundation, and Taube Philanthropies. He also serves on the Investment Committee for the Board of Trustees of the Portola Valley School Foundation Endowment and actively supports a number of other nonprofit organizations.
"My parents, wife, in-laws, children, friends, and I have all enjoyed the beauty and aura of Filoli for the past several decades," said Zafran. "Indeed, Filoli always comes to mind when out-of-town guests visit. I look forward to fostering a greater sense of community pride and civic engagement with this magical venue."
"We look forward to working closely with this amazing group of community leaders," said Kara Newport, Chief Executive Officer at Filoli. "We rely heavily on their experience and expertise to guide the organization in achieving greater levels of public engagement and inclusivity, sustainability, organizational excellence, and innovation. We welcome all our board members to another exciting and productive year at Filoli."
Filoli 2020 Board of Directors
Executive Team
David Wollenberg, President Carolyn Daley, Past President Carol Moran, Vice President
Board Members
Donna Colson
Jaleh Daie
Jeff Deaton
Robert Fountain
Sapna Marfatia
Robert Nibbi
Willem Racké
Ana Roth
Barbara Seipp
Michael A. Smith
Kathy Trafton
Don DeFever, Secretary
Ron Peyton, Treasurer
David Wessel
Mary White
Leslie Witt
Jeff Yoder
Nancy Young
Alan Zafran
Laura Simonds (Friends of Filoli Representative)
Brian Turner (National Trust for Historic Preservation Representative)
Kara Newport (Chief Executive Officer of Filoli Center)
For more detailed information about the executive team and other members of the Filoli 2020 Board of Directors, please visit: www.filoli.org/visit/leadership.
About Filoli
Located south of San Francisco in Woodside, California, Filoli boasts 654 acres of beauty nestled along the slopes of California's coastal range. Originally built as a private residence in 1917, Filoli was open to the public in 1976 as a 501(c)(3) nonprofit organization and site of the National Trust for Historic Preservation. The property is considered one of the finest remaining country estates of the 20th century, featuring a 54,000+ square-foot Georgian revival-style mansion, 16 acres of exquisite English Renaissance gardens, a 6.8-acre Gentleman's Orchard, and a nature preserve with over seven miles of hiking trails. Filoli is dedicated to connecting our rich history with a vibrant future through beauty, nature, and shared stories, so that one day all people will honor nature, value unique experiences, and appreciate beauty in everyday life. For more information about Filoli, visit www.filoli.org.
Contact:
Filoli Historic House & Garden
86 Cañada Road
Woodside, CA 94062
(650) 364-8300
press@filoli.org